Frances Morency Photography
Best Mexico Destination Wedding Photographer
Best Mexico Destination Wedding Photographer at Sunset
Check out this post about a destination wedding at Mexico Resort
Akumal Bay Beach Resort and Spa in Cancun wowed me with its gorgeous sunsets and golden hour light. The wedding day was planned around a portrait session during the sunset hours.
A tea ceremony was planned for the night before at a restaurant on the resort.
This resort has penthouse suites with a deck overlooking the resort. I went upstairs to check out the light and noticed the incredible clouds in the sky and knew this would be a great spot for the dress photo.
A yukulele was brought along for the trip to this destination wedding and I wondered what the reference was going to be. I knew it had to have some kind of meaning or they wouldn't have travelled this far with it. I decided to try and incorporate it with the wedding rings.
Mother daughter moments happen naturally with a really close relationship like these two had.
My favourite images of the day are taken when they don't know i'm taking photos. This photo of the bride walking up the stairs to the rooftop is one of mine from this day.
The girls all joined in to put the cathedral veil on the bride before dad came and had a first look.
While we waited for dad to arrive to the brides room, I ran over to the groom's room 1 floor below to photograph him getting ready. A portrait of the groom in the hallway with an elevator door reflection.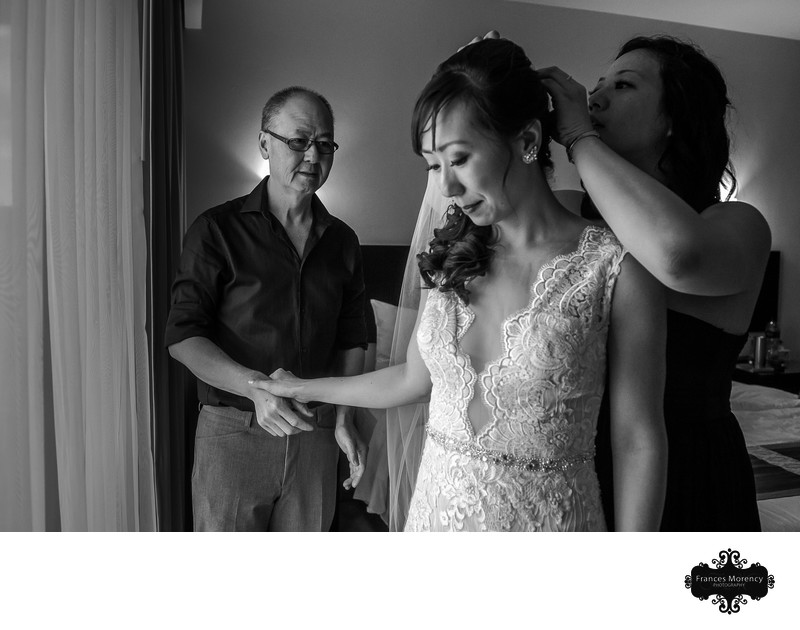 Moments with dad mean everything when you have a bond like this family has.
Finally we met up with the entire wedding party for waterfront photos. We just walked for 20 minutes up the beach and stopped for photos along the way. Simple, easy and stress free......before we let them go to get drinks from the bar.
The ceremony location was private but hot in the sun. I highly recommend doing a late day ceremony for destination weddings so that you and your guests are not outside during the hottest part of the day.
A late day ceremony allowed us to get great golden hour and sunset photos in Mexico. The resort was situated in a way that the sun set down the beach and around a bend. We walked for ten minutes along the beach taking photos until the sun was setting in the right location for photos.
We returned to Akumal Bay Resort & Spa just in time for introductions to their reception.
Location: Akumal Bay Beach Resort & Spa, Carretera Federal Cancun-Chetumal Km.104, 77760 Akumal, Q.R., Mexico.

Keywords: Akumal (9), Chinese (3), Destination (66), Mayan (3), Mexico (15), tea ceremony (3).

1/4000; f/5.6; ISO 1600; 78.0 mm.

Meaford Wedding & Portrait Photographer Frances Morency * 108 Gordon Crescent * Meaford, Ontario * N4L 0A9 * (416) 526 2005 Copyright Frances Morency Photography 2019