Collingwood Engagement Photography Locations
Head to Collingwood for a great downtown experience in your engagement photography
CLIENT REVIEW
Hi Frances,
Thank you for your email. I was planning on emailing you to thank you for your patience and support during the session. You made an awkward situation as comfortable as Jeff and I could ever be.
We can't wait for the pictures. Jeff and I were talking about the session long after we left. We had a great time.
We will definitely be on the look out for your pictures. Thanks again for everything and it was a pleasure getting to know you a bit better.
Take care and we will chat soon! Enjoy the rest of your week.
Collingwood Engagement Locations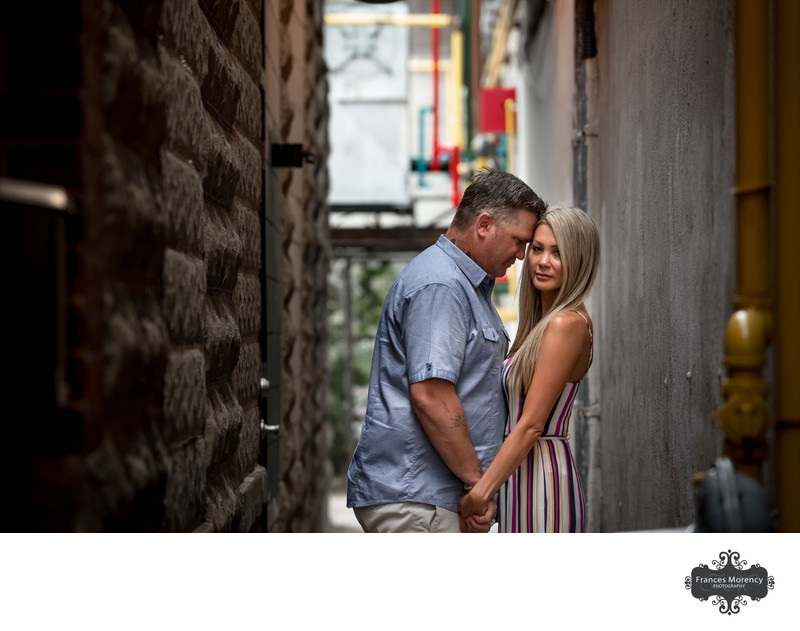 How did you meet?There is a local restaurant in our neighbourhood that Jeff and I regularly went to. One day, Jeff saw me there and asked the owner if he would pass along his number. The owner approached me with the offer, but I declined because I wasn't interested at the time. It wasn't until one of the waitresses I was close with said he was down to Earth and to give him a chance. I decided to give it a shot 5 months later...I'm glad I did!
What do you remember most about your first date?To be honest, our first date was mediocre. I wasn't sure if there was going to be a second date until we had a very lengthy phone call right after the date. That's when I saw a glimpse of who Jeff really was. I guess he was nervous ;)
When did you know he was the one?I don't think I can pinpoint one moment, but rather it's a summation of so many wonderful moments from a simple kiss on the forehead when he thinks I'm sleeping to leaving me notes when I come home from work. All in all, why he's the one for me is that I know he accepts me for who I am...all of me.
How did you feel the moment he proposed? Were you surprised by his planning?I was overwhelmed by the entire situation. The fact he proposed, he put so much thought into it, his expression when proposing, and he was able to keep it a secret.
What do you like to do as a couple?Most people count down the days until summer, but we count down to the days it is snowboarding season. The more it snows, the more we love it! We also love to travel, especially NYC at Christmas time.
If you could use 3 word to describe the theme of your day what would they be?Rustic, intimate, and charming
What is it about my photos that speaks to you?What drew me to Frances' photos is the phrase "a picture is worth a thousand words". It may seem cliche, but Frances has the ability to tell a story through her pictures and capture the emotions of everyone. Her artistic and creative perspective while capturing the moment candidly is incredible.
What is the one thing that attracted you most about your partner?If I could only choose one thing, it would have to be his playful attitude. There's never a dull moment being with Jeff.
Tell me 3 things about your partner that describe them best?Funny, generous, and live in the moment attitude
Tips or advice that you would give to future couples when planning a wedding?Get a wedding planner! I thought since our wedding was going to be intimate, there wouldn't be much planning. I realized that all the small details still need to be done just on a smaller scale. There were a lot of small details that I didn't anticipate and I realized it would have been helpful to bounce ideas off someone who had been through it before.
How did you feel about the engagement session after it was all over?Excited! Jeff and I do not like taking pictures...at all. However, Frances took us through each picture step by step and was very enthusiastic about each picture she took. Her passion for her work beams through her approach and it made us feel comfortable.






Location: Collingwood, Ontario.

Keywords: collingwood (150), engagement (357).

1/320; f/4.5; ISO 3200; 70.0 mm.