Wedding at Coffin Ridge Boutique Winery
Engagement session with a view at Coffin Ridge Vineyard and Winery.
I met these two at the winery and we started the session with wine tasting. Can I say? what a great way to get rid of any nervousness. I photographed them inside the winery and then we ventured out with our wine in hand and explored the property.
View overlooking the vineyards from top of the hill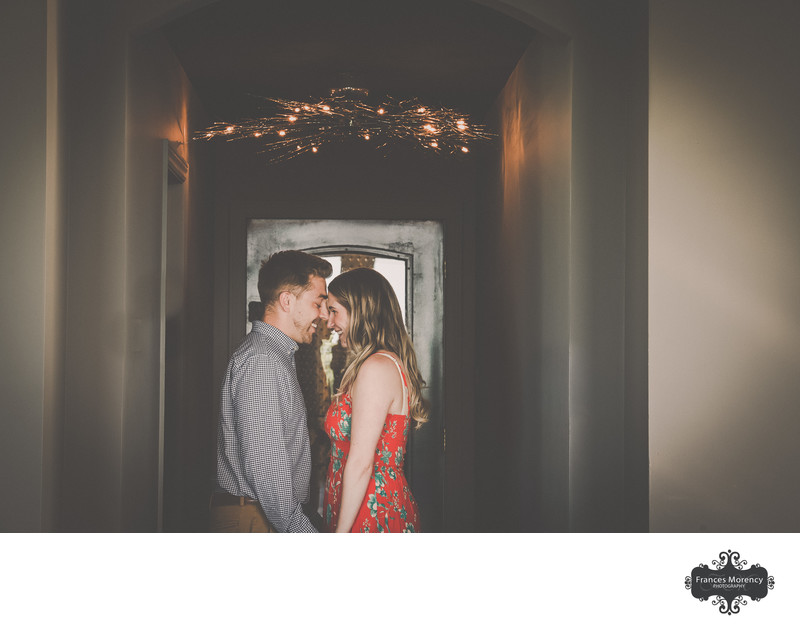 Inside Coffin Ridge Vineyard and Wineries store and tasting area
Taking a moment to enjoy the rest of their wine before heading outside to explore with me.
How did you meet?Ben and I met online using Match.com
What do you remember most about your first date?We went out to this amazing Mexican restaurant and Ben ordered a fruity drink served in a pineapple with a pink umbrella. He's never ordered something like that since.
When did you know he was the one?Pretty early on I knew there was something different about our connection. Things were just so easy going and comfortable. We never had to work to make things fun. We didn't watch a movie or listen to radio until a few months in. Then he told me he loved me at an Arkell's concert right before spending the weekend in Niagara together. I was sure this was the first of many adventures we would go on together.
How did you feel the moment he proposed? Were you surprised by his planning?I was actually quite confused when he proposed. He didn't come right out with the question and instead was rambling on with all these very sweet things. He eventually gave me the ring box but still didn't pop the question. I had to ask him if he wanted me to open the box and again if I should put it on. He got down on one knee and asked me to marry him. It was perfect for the two of us.
What do you like to do as a couple?Our favourite activity is probably going to Home Depot. Never thought I'd say that. We also love checking out local breweries and wineries, road trips, bike rides, golfing. We pretty much have a great time whatever we are doing if we are together.
If you could use 3 word to describe the theme of your day what would they be?Elegant garden party
What is it about my photos that speaks to you?We loved the richness of the photography and the in between magical moments you capture.
What is the one thing that attracted you most about your partner?There are too many things to list! But one big thing is how comfortable he makes me feel. He takes care of me and calms me down when I'm going in 10 different directions at once.
Tell me 3 things about your partner that describe them best?Ben is a family guy, he loves being with his family and now mine. Ben loves getting involved whether it be home renovations, to volunteering with my dance company, to pickling, to hanging out with any of the many children in our lives. Ben has a huge heart and will do anything for anyone.
Tips or advice that you would give to future couples when planning a wedding?Ask for help when you need it. You would be surprised what secret skills and tools you're friends and family may have. We have a ton of people helping us with the flowers and décor. Everyone is so eager to help out and it lightens our load and stress.
How did you feel about the engagement session after it was all over?We both loved the experience. At first we were both really nervous and it took a bit to get into the groove of it. We are really happy we did it and got over those nerves before the big day.
Location: Coffin Ridge Boutique Winery, 599448 Concession Rd 2 N, Annan, ON N0H 1B0.

Keywords: Coffin Ridge Boutique Winery (4), engagement (125).

1/5000; f/4.0; ISO 1600; 200.0 mm.