Frances Morency Photography
Gladstone Hotel Wedding Photographer
A beautiful bridal portrait taken immediately after hair and makeup by FancyFaceInc.
Situated between two of Toronto's most creative neighbourhoods Queen West and Parkdale. The Gladstone is the spot for local artists and travellers to relax and socialize. A destination in itself, the boutique art hotel embraces the arts, culture and dining with an experience as soon as you walk through the doors.
This is the city's oldest continually operating hotel with the highest standards in environmental performance, social responsibility and innovation through the arts.
Toronto artists designed the rooms at this accredited hotel in Toronto.
Meg and Marsh's Wedding day at The Gladstone Hotel in Winter.
We drove to downtown Toronto for this Gladstone Hotel wedding in the middle of winter. This couple chose the venue because of it's all in one possibilities. Not knowing what the weather would be like in March they didn't want their guests to drive to multiple locations in Toronto.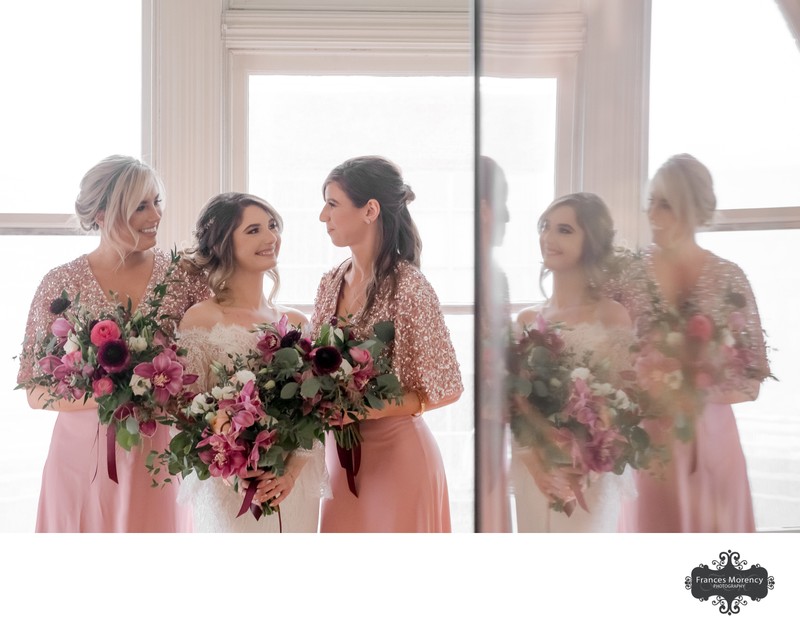 How did you meet?We met working at the Canadian Tire in Halifax NS, in October of 2012.
What do you remember most about your first date?Splitting a plate of nacho's and Gin & Tonics while we talked for hours. The conversation was so organic and we never had a awkward moment to fill.
When did you know he was the one?Shortly after our first date. I had never felt so comfortable with someone, like we had known each other for years despite only knowing each other for a few weeks.
How did you feel the moment he proposed? Were you surprised by his planning?I knew it was coming - he had been acting weird and asked if I would be open to a fancy date night at Casa Loma, including us taking nice photos. I, of course, made sure my nails, hair and makeup were done for this 'date night'! My feeling was right as he proposed in the Casa Loma gardens, it was a special moment between us and he had friends hiding in the bushes to capture it.
Why did you choose this venue?We chose the Gladstone Hotel for its downtown proximity, unique aspects of the building (so much character!), strong values of environmental sustainability and just how cool the venue is. The Gladstone has art pieces throughout the building, giving each space a unique perspective.
If you could use 3 word to describe the theme of your day what would they be?Celebration, Intimate, Bohemian
Memorable moment from your waking up the morning of and getting ready for your day?Obviously getting married to the love of my life, but the moment I shared with my dad prior to the ceremony was heart warming. It was a very sweet moment of us reading the cards we had written to each other. Lots of tears were shed in a very wholesome manner.
Tell me your feelings about who and why you chose to be with you while you put your dress on?I chose my stepmom, Angela. She has been a huge pillar of support the last 11 years and was my main confidant in wedding planning. It was an honour to have her help me in my dress on the day of.

What did you feel and remember from your ceremony?Laughter, love, and celebration. My favourite moment of the ceremony was our guests realizing we had flower-grandma's and when we did our secret handshake before the 'You may kiss the bride'.

Who and why walked you down the aisle?My dad! He has been my biggest cheerleader, mentor and advocate in my life. I couldn't imagine anyone else walking me down the aisle. I know it was a very special moment that he had been waiting for for years.

Comments / Tips about your venue for future couples?The Gladstone was absolutely amazing to work with leading up to the wedding day! They are also considered a 'turnkey' wedding venue as they supply chairs, linens, food, alcohol, silverware and easels for decor. The art gallery is a huge PLUS if you are doing a cocktail hour in between Ceremony and Reception. I would recommend this venue to anyone looking to get married in Toronto.

What did you talk about during your first dance together?I don't remember talking, just trying not to mess up our steps! We totally forgot to practice our first dance prior to the wedding day and were nervous we would be stepping on each others toes! In the end it went well

What did you do together the next day that was memorable?We left for our honeymoon the day after the wedding! We were on a wedding-high in the airport, looking at our guests photos they took and watching the 60 second teaser our videographer had put together.

If you could tell engaged couples 3 things not to stress about on the wedding day what would it be?

1) Things will go wrong, just let them go wrong and forget about it 2) Enjoy every single moment because it all goes by too fast 3) Give someone else your schedule (coordinator, MOH etc.) and let them keep you on schedule. Its easy to get caught up in the organization but you need to enjoy this special day

Location: Gladstone Hotel, 1214 Queen St W, Toronto, ON M6J 1J6.

Keywords: bridal portrait (46), bw (90), The Gladstone Hotel (16).

1/100; f/1.4; ISO 2200; 85.0 mm.