Frances Morency Photography
Graydon Hall Wedding Photographer
Graydon Hall Wedding Photographer Bridal Portrait
Graydon Hall Manor Wedding Photographer for the elegant couples that know how to have fun. This venue has the most beautiful garden ceremony space for your wedding day and with multiple option for seating at your reception you can have beautiful photos all day long.
This bride wanted photos in the bay window during her bridal preparations and this empty room has the most beautiful light any time of day.
Graydon Hall Manor
This venue, overlooking the Don Valley, Graydon Hall Manor is a historic boutique conference and reception venue, established to produce sophisticated events with an uncompromising attention to detail.
Whether you are planning an intimate dinner for a chosen few or a glamorous event for a few hundred, the private rooms at Graydon Hall Manor are the perfect venue. Special events only, this gorgeous mansion offers perfect privacy 7 days a week. Rooms are available for daytime or evening weddings year round, and can host sit-down affairs for 20 to 180 guests as well as cocktail parties from 40 to 400 guests. Consider the160 foot long stone terrace that over looks flowing fountains and formal gardens. The terrace can be reserved with or without the custom, clear span canopy, and seats up to 250 guests.
Our in-house Event Designers are happy to discuss all your catering requirements, whether you wish to order from our a la carte menu or let Chef Arpi Magyar create a unique menu for you.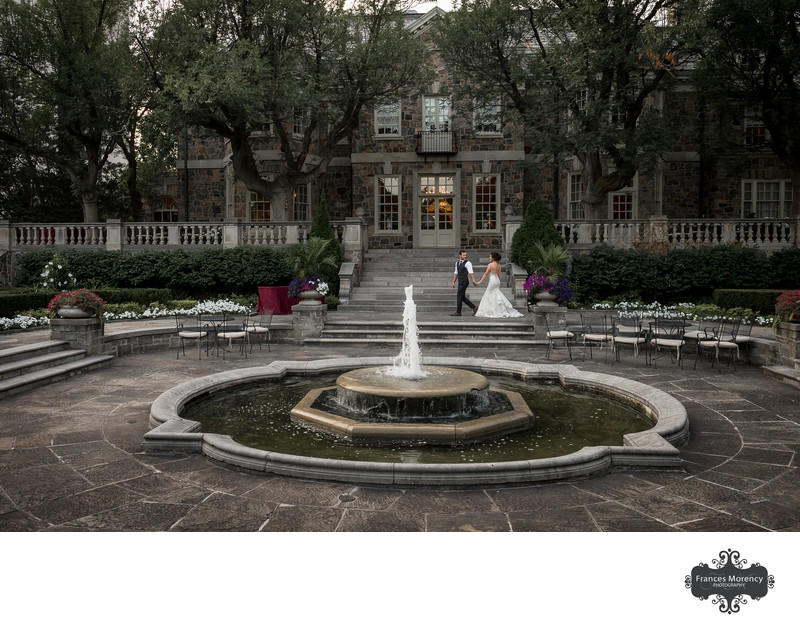 Location: Graydon Hall Manor 185 Graydon Hall Drive, Toronto, ON M3A 3B1.

Keywords: Bride (6), graydon hall (21).

1/1250; f/4.5; ISO 5000; 24.0 mm.

Meaford Wedding & Portrait Photographer Frances Morency * 108 Gordon Crescent * Meaford, Ontario * N4L 0A9 * (416) 526 2005 Copyright Frances Morency Photography 2019