Frances Morency Photography
Indian Wedding Photography: Royal Ambassador Banquet
This is a photograph of my couple taken at the reception by going outside during golden hour for 10 minutes. They had changed into second outfits and needed portraits.
Gazebo Wedding Ceremony
The Royal Ambassador banquet in Caledon has may options for the ceremony, but the lakeside gazebo is by far the most popular option.
This photo was taken when the wedding party descended the staircase towards the gazebo during the introduction of the hindu ceremony.
Royal Ambassador Banquet Property
This wedding venue is an ideal location for a multi event day where you need spaces for other ceremonies such as the Milni ceremony. Its "a coming together", of the two families ceremony. The tradition occurs in both Hindu and Sikh weddings before the start of the marriage rituals. The Groom makes his way through the Baraat procession, in this case, on horse back towards the brides waiting family and friends. The Bride's closest relatives welcome him in this situation by stealing his shoes and offering them back to the groom by the highest bidder.
Melissa S.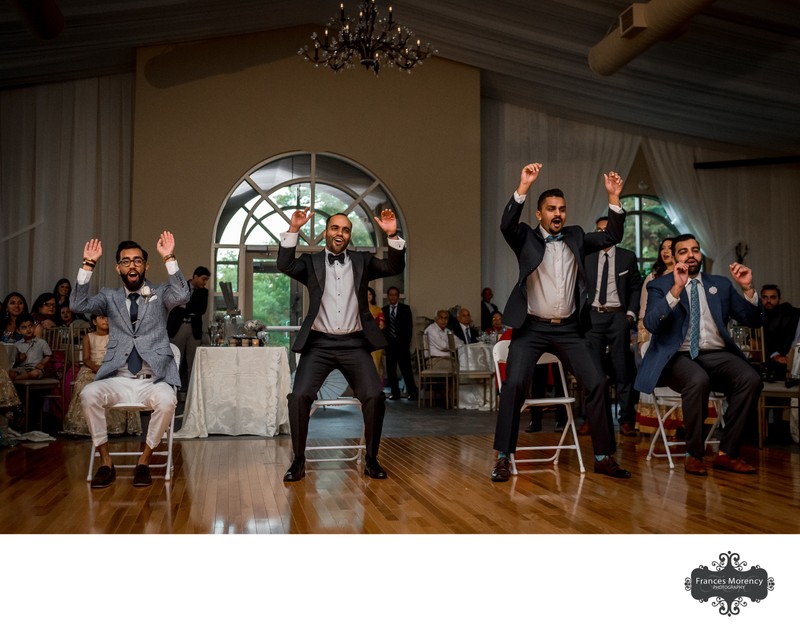 Wedding Photography
Weddings
Multi-Cultural Weddings
Birthdays
Bar-Mitzvah
Bridal or Baby Shower
Anniversary
Corporate Events
Awards
Business Functions
Wedding Photography Locations
55 manicured acres
20 acre lake
two Gazebo locations
breathtaking views
gardens
a Royal Ambassador Team at your service
amazing food and customized menus
talented chefs
Friday and Sunday rates
Winter packages
EMBASSY BALLROOM
neo-classical architecture
stunning views
perfect backdrop
ceilings that soar to as high as 24'
boast
majestic windows
spectacular terrace overlooking 55 acres of parkland
view of the lake
Ballroom capacity is 500 guests
EMBASSY EAST/WEST BALLROOM
When the Embassy Ballroom is divided capacity is:
280 guests in the East
200 in the West
CONSERVATORY ROOM
Located on the east side of the building, the Conservatory room is ideal for intimate events.
CONSULATE RESTAURANT
Wonderful fine dining restaurant in Caledon!
Live music every Friday and Saturday night.
The Consulate Restaurant on Innis Lake is committed to providing guests
with the finest cuisine in an elegant and tranquil environment.
The Consulate Dining Lounge opens its doors to private events on Sunday's.
Capacity is up to 50 guests
GREENHOUSE
Next to the main building on the same gorgeous property, this newest stand alone building is situated with views Innis Lake
Perfect for:
wedding ceremonies
wedding receptions
corporate affairs
private parties
business functions
designed in Hollywood classic
Capacity is 320 guests
LIBRARY ROOM
Located in the main building on the second level, the Library room is a private area designed to accommodate smaller groups to a maximum of 50 people.
TERRACE GAZEBO
The terrace gazebo is situated in the gorgeous manicured gardens and is a stone's throw from Innis Lake.
THE ROYAL AMBASSADOR BANQUET
15430 Innis Lake Road
Caledon, ON L7C 2Z1
Location: Royal Ambassador Banquet, 15430 Innis Lake Road, Caledon East, ON L7C 2Z1.

Keywords: Indian wedding, Royal Ambassador Banquet (4), wedding couple portrait (146).

1/100; f/4.5; ISO 2500; 70.0 mm.