FAMILY LIFESTYLE PHOTOGRAPHY LOCATIONS
Over the years, I have favourited some locations because of the lighting quality at any time of day and for the variety of background options in 1 location. Each location has it's own pros and cons and each has it's own style. Every client is different and the use for the images is different. I always recommend that they choose a location that will complement their home and personal style…..... A location that will help to bring out their true personalities! Please browse through the multiple locations below and see which one jumps out at you the most!
The Fields
Fields are a fun location that we can play in. It features long grass, wild flowers, wooded backdrops and the best location for mid day photos.
If you are looking for a natural location and need to be photographed during the harshest lighting part of the day like noon, then the fields or woods is where we need to go.
The Waterfront or Beach
There are actually two beach locations that I frequent, and which one I decide to use completely depends on what time of day your session is booked. Both locations feature a small, quiet, private beach nestled amongst trees, which makes for a more visually diverse photography session!
If you think that you'd love to have photos surrounded by foliage, pathways, beach sand and water and don't mind the kiddos or the entire family getting a little wet and dirty at the end of your session, then choose The Beach!
Craig Leith Conservation
Sunset Point Beach
Old Candle Factory in Meaford
Harrison Park in Owen Sound
Sauble Beach
Southampton Beach
Wasaga Beach
Southshore Community Centre in Barrie
This location boasts elaborate flowerbeds that change with the seasons. The grounds are filled with bright yellow dandelions and buttercups earlier in the year, giving way to purple wild flowers, and then black eyed Susans later in the summer. Gravel pathways and a multitude of different varieties of trees are scattered throughout the location.
My own personal favourite spot here is a big clearing that is surrounded by trees on all sides. There is so much space for families to play and connect, which makes it easy for me to document all of those sweet candid moments!
The Alley
Do you have a trendy family? Is your home a little more modern in decor? Want a little less nature, a little more texture?
Downtown settings have great alleys, brick, reflections and back lighting. If you have mobility issues or children in strollers then this may be better than the wood. Walking is involved as we move from metal staircases to architectural elements, brick walls and industrial backdrops.
The plus side of shooting downtown? You can walk to any number of awesome restaurants when you're finished your session to reward yourself with a treat!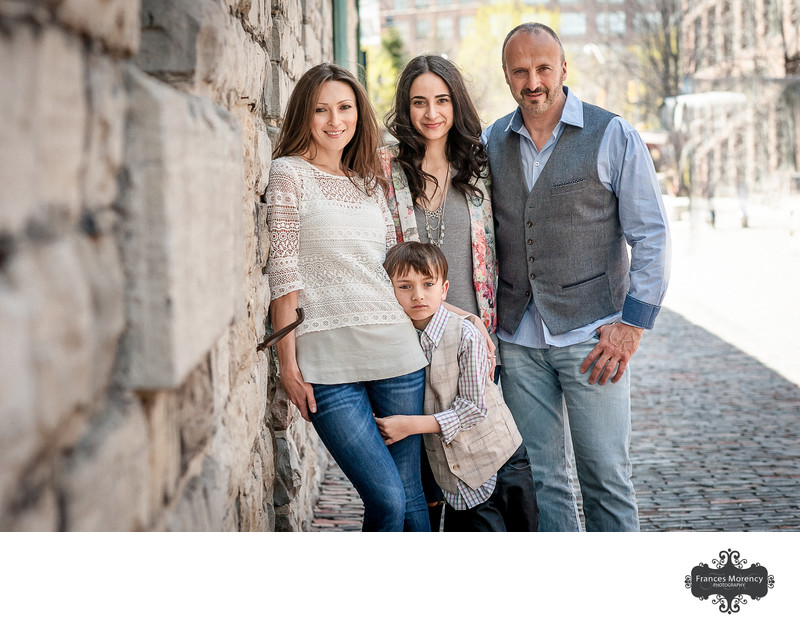 Belfountain Conservation Park
This park is well rounded and unique. It has the woods with trails, shallow creeks to play in barefoot, suspension bridge, stone walls, fountain, large pond and black iron fencing. All of these elements make for a well rounded location and a lot of options for photography. This is also a great location if you have children that need to be entertained. Plan on spending min. 1.5 hours here exploring and taking photos.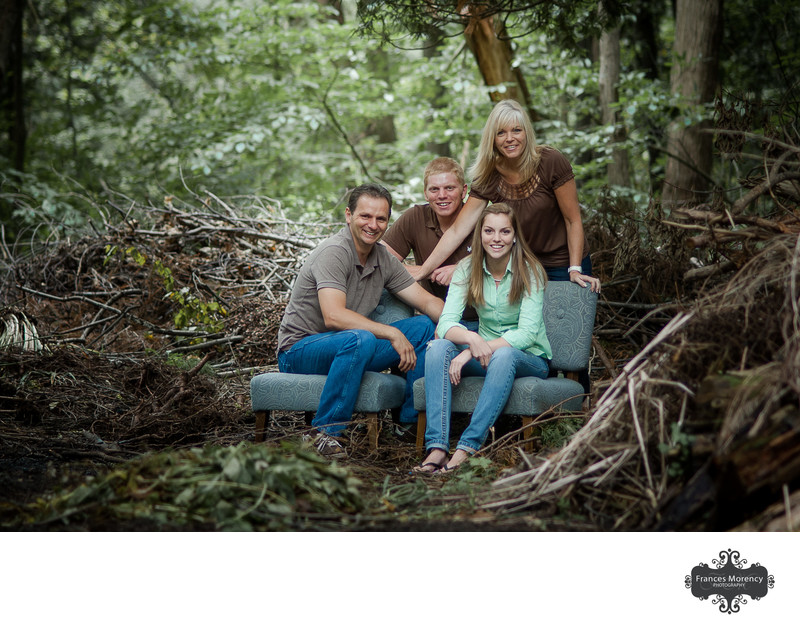 HOME
Are you wanting to stay home? Do you have a property ideal for photos? This family just moved their furniture out of the way and used an empty wall. This is a great option for winter or rainy day family photos.
HIKING TRAIL
Ideal location for large families getting together for fall photography sessions. Trail sessions can include long driveways or treed laneways.
Meaford Trail
Thornbury Trail
Craig Leith Trail by old Station
Harrison Park in Owen Sound
Caledon East Trail ( showcased below )
CHRISTMAS TREE CUTTING

Plan your family photography around activities you're already doing. Are you going to cut your tree down for Christmas? Invite me along to photograph this fabulous opportunity.

FARM or PETTING ZOO
Are you visiting a farm or joining a play date? invite me along to photograph your family during an activity.