Tips Leading up to the Wedding
TIPS LEADING UP TO THE WEDDING
TOP 13 TIPS AND COUNTING
Bridal Preparations, what do you need me to have and do?
We highly recommend a clutter free room! This is crucial for beautiful clean photos. Get a spacious suite or rent a condo from AirBNB for the day (many times a lot cheaper ) If you are planning on getting a hotel room for the wedding night and using it for the bridal preparations, make sure you get a suite. Keep the space with the most light spotless and use the other room for hair makeup and bridesmaids stuff.
hang your dress
hang your veil
put your shoes near the dress
have your rings ready
jewellery ready
heirlooms nearby
invitations ready
flowers should be here too
bridesmaids dresses
**** your mom or bridesmaids need to be READY! dressed/hair/makeup before YOU! ****
They will be helping you into your gown and shoes and should be dressed and ready to be photographed helping you.
---
First look or not?
In spite of what you have heard; there really is no right or wrong way to do it. We have successfully documented weddings with, or without a first look. However, my experience has shown me that if a couple elects to do a first look, we can usually fit in an extra 45 minutes just for bride & groom portraits. It is your big day and you will choose how you will remember the day! It is about a 50/50 split for my couples. Half of them will choose the more traditional route, and half will opt for first look. I tend to ask the grooms this question. They usually have a strong opinion about seeing the bride walking down the aisle as the first look.
---

Can We do Family Formals Before Ceremony?
*** Family Formals PRIOR TO CEREMONY ***
Here is where the chaos happens. You need to STRESS to immediate family to be in a certain area at the assigned time for family formals. You will not have time to chase people or wait for anyone who is late arriving.
For this reason alone we highly recommend family formals follow the ceremony.
For family formals I like to keep it under 20 minutes. That is usually doable if everybody cooperates and sticks around right after the ceremony. Please communicate this to your DJ or the officiant. They should make an announcement at the end of the ceremony for the bridal party and immediate family to stay for photos. This really helps to move the groupings along and cut the time down to a minimum.
---

Will you document the reception area?
The venue and all the decors, flowers, place settings, are perhaps the most expensive items on your wedding budget. And, I'm sure you have allocated a big chunk of budget on making the reception and ceremony areas to be impeccable. My team will need approximately 15-20 minutes in order to shoot all the details. We are talking about the overall room empty and free of guests and event staff, centre pieces, cake, favours, flowers, dessert table, guest signing table, etc.. We will need the area completely sectioned off from guests so we can get a 'clean' shot of the area. All of my clients appreciate this, because otherwise they would never know what the reception area looks like! Please work with the coordinator to have all the decorations done before start of cocktail hour.
---
When will the photographers eat dinner or take a break?
** important ** venues really fight you on this and tend to ignore it.......
The best time for us to eat dinner is when the bride & groom are eating. This is not because we like to eat before everybody else I promise! When you guys are done eating, and are getting up visiting tables, saying hi to guests, I want to make sure my whole team is available. This is also crucial for your venue to be aware of so that they don't seat us in ANOTHER ROOM. This happens more often than not and a lot will get missed if we are away from you eating our dinner. So we typically eat while you are eating and we are done when you guys are finished as well. This will help to achieve a fuller coverage of your wedding reception.
Venues will always try and put your photographers and videographers/DJ in another room or offer vendor meals to your hard working photo teams.
---
What happens if we need additional hours of coverage on the day of the wedding?
If you need to have additional hours of coverage on your wedding day, do not worry, we have it covered! You can let your wedding coordinator know and they will communicate that to us. Please give us as much notice as possible! According to our contract, an additional hour will be billed at the current rate. We would appreciate payment at the end of the night; we accept payments by cash or e-transfers.
---
What does the second shooter cover? Who will be with the bride and who will be with the groom
Typically, I will be the PRIMARY photographer in charge of the bride getting ready, details, & romantic portraits. The SECOND SHOOTER is in charge of groom getting ready shots, and provide a 2nd angle for the ceremony coverage, cocktail hour and reception.
The ASSISTANT PHOTOGRAPHER included in collections is responsible for assisting the PRIMARY photographer during bridal preparations, shooting at different angles during your ceremony, cocktail hour guest captures and assisting with equipment and lighting during your reception.
---
We have special surprises planned, will you be able to capture that?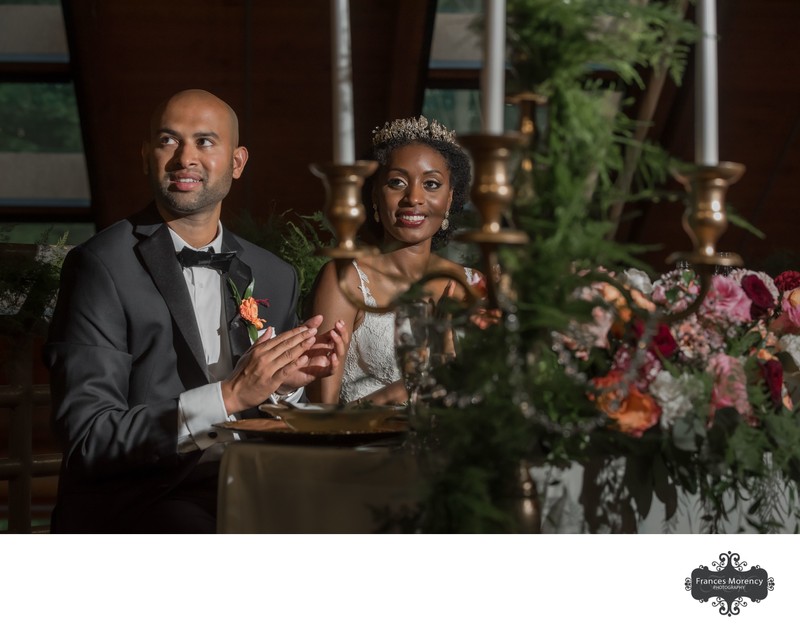 We love special surprises at weddings! Please send us everything you are planning that is not the typical formality, and we will do our absolute best to capture it.
Surprises or additional entertainment will also impede on your timeline. If we are not notified of additional activities additional hours of photography coverage may be needed.
---
Want the best first dance photos?
The first dance is so special to capture, but what will make it even better is if YOU CHANGE YOUR ARM POSITIONS throughout the dance. Don't keep you arms around his neck because then I can't see your faces. Start at his neck then slide your arms down his arms, then for the kiss at the end put your hands on his face around the back of his head. If you a planning a choreographed first dance please let your photographers now in advance.

---
The best speech photos!
Speeches get ruined by podiums and microphones stands in your faces. REMOVE THE PODIUM and place a free standing microphone at the end of your table.
Make sure to tell your venue about this request.
These tips will help you get the best possible images on your wedding day.


---
Whiten my teeth why?
Everyone has yellowing of the teeth.....it's normal. But, add a white dress or a dark suit and yellow teeth stand out a lot more. A week before the wedding day grab a box of Crest White Strips and use them for the week. You will be shocked at the difference it will make in your photos when you both have stunning smiles.



---
Want to avoid extra expense on unnecessary photoshop?
Tell your bridal party to remove sunglasses from their heads, cell phones should be in jacket pockets, and keep hair ties off the wrists.








---
DJ's and Bands.
Advise your DJ's and Bands to set up away from your head table. Especially in small rooms or tented events. DJ's set up their large speakers or table next to the head table and they WILL be in all your photos.