THE WEDDING MAGAZINE


WHAT YOU SHOULD KNOW ABOUT HIRING PHOTOGRAPHERS
• make sure the website images show a variety of lighting situations……. harsh light, overcast, rain, indoors, flash, video light, night photo, sunset photo.
• make sure they have pro cameras with dual card slots for immediate backup of wedding files.
• make sure they have backup equipment on the day of …..multiple bodies, more than 4 lenses, multiple flashes, many many memory cards, video lights, tripods, proper editing software, backup and safety backup of your event photos.
• your photographer should also have a business system in place to handle all the day to day business affairs such as contracts, business license, liability insurance, a reliable vehicle and a system in place to keep track of all the emails, contracts, galleries, image delivery and other business affairs.
• your photographer will be passionate about photography in order to care about the images they capture for you. Your photographer will work full time as a photographer and NOT part-time for extra cash.
• your photographer will care to show up on your wedding day.
• your photographer will assure you that a comparable photographer will show up if they are not available.
• your photographer will be excellent at editing and will deliver your images in 6-8 weeks.
• best of all I will be nice, respectful, prompt, efficient and keep your day on schedule to the best of my abilities.
I'm a Meaford photographer serving Collingwood, Georgian Bay and Southern Ontario.
I also have a base in Field, BC. and will photograph weddings anywhere in Canada with no travel fees.


COLLECTION 4
2599
Intimate COLLECTION
1999
MICRO-WEDDINGS


400/per hour 
What's Included
PHOTOGRAPHER + ASSISTANT PHOTOGRAPHER
I will show up to photograph your wedding and bring my assistant with me. My assistant is there to help me while I shoot bridal preparations, assist me with detail set ups, lighting, equipment as well as photograph guest captures during your ceremony and cocktail hour when needed.
SECOND SHOOTER
Want two pro photographers all day? (All day is up to 12 hours)
Upgrade and I'll bring another pro with me for groom prep, ceremony, cocktail/reception.
ALBUM
A custom designed album w/10 full spreads full of images. Sizes vary and upgrades are available. Each album is designed with your wedding story in mind.
HIGH RESOLUTION FILES
A complete set of edited, high resolution files w/ no watermark, ready for printing of your wedding and engagement photos
LOW RESOLUTION FILES
A complete set edited, watermarked, low resolution files, sized and ready for easy sharing online.
ONLINE PROOFING GALLERY
Your wedding images in an online gallery for friends and family to view and purchase print and products without having to ask you for pictures. Super affordable rates and delivered right to their door.
ENCORE SESSION
Did your day get torrential down pours or an unexpected snow storm? Enjoy a complimentary 2 hour fashion inspired session to get you those fabulous images you dreamed of, anywhere in the GTA within 2 months of your wedding day.
The Moments That Matter
I BELIEVE in giving you ART by storytelling your wedding day in a JOURNALISTIC style
I believe a wedding should be about capturing the moments that are happening at that time and I strive to give you emotional, compelling images, with minimal guiding or posing, of the relationships you have with your partner, family and friends.
You need someone who is experienced in capturing the day as it's happening in the background without interrupting you to pose or smile. You need a photographer you can trust to be somewhere in the room photographing it all as the day unfolds in an unobtrusive style. All professional photographers will capture the "SHOT LIST" of required photos, but the photographer who can capture the in between moments and knows when to expect and anticipate them is the pro you want. Photographs are more than just pictures taken they are documented memories of tears, love and unscripted joy. To us, the wedding day isn't just the bride or the groom perfectly posed... it's about the moments you are having with all the people around you that you love. It's the look on your father's face when he sees you for the first time as a bride. It's about the tears when the maid of honour says her speech and every time you see the image you will remember the kind words. It's about your mom helping you into your gown or the crazy time your friends are having at your reception.
We are members of: Wedding and Portrait Photographers International, Professional Wedding Photographers of Canada, Best of Wedding Photographers, and International Society of Journalistic Wedding Photographers
We are award winning photographers from: Fearless Photographers, PWPC and WedAwards
The Associates
$2500

7 Hours

2 photographers
Hi resolution & Low resolution files
6x6 album w/ 20 pages



Our associates are fantastic lead photographers in  their own rights. They both have many many years of   experience running their own wedding business and working along side me.  My associates are well rounded photographers who are not interested in the business part of photography, but are passionate about weddings and capturing the  memories.  My associate photographers are talented, eager, have great work ethic and dedicated to journalistic style photography.  We all take the same approach to wedding photography     and I trust them with all my clients and their families.  It's important to have someone with you all  day who will be confident, friendly and experienced. Choose an associate because they're incredibly talented people and because I trust them enough to send them to my clients.
 Now, just because I can't be there on the day doesn't mean  that I'm not there every step of the way to make sure you have a wonderful experience with Frances Morency Photography  & Co.
I WILL..... photograph your engagement!
I WILL.....take care of you throughout the communications and business process.
I WILL ...... handle all the photo editing.
I WILL ...... do all the custom album designs.
DESTINATION WEDDINGS


Destination 1
$0
+ travel/accommodations for 5 days
8 HOURS w/ Frances
lightly, limited editing
digital download via proofing gallery
highlight slideshow
50% off prints
Destination 2
$1000
+ travel/accommodations for 5 days
8 HOURS w/ Frances
fully edited images
digital download via proofing gallery
highlight slideshow
50% off prints
Destination 3
$2000
+ travel/accommodations
All DAY Coverage
Fully edited images
Digital download via proofing gallery
highlight slideshow
50% off prints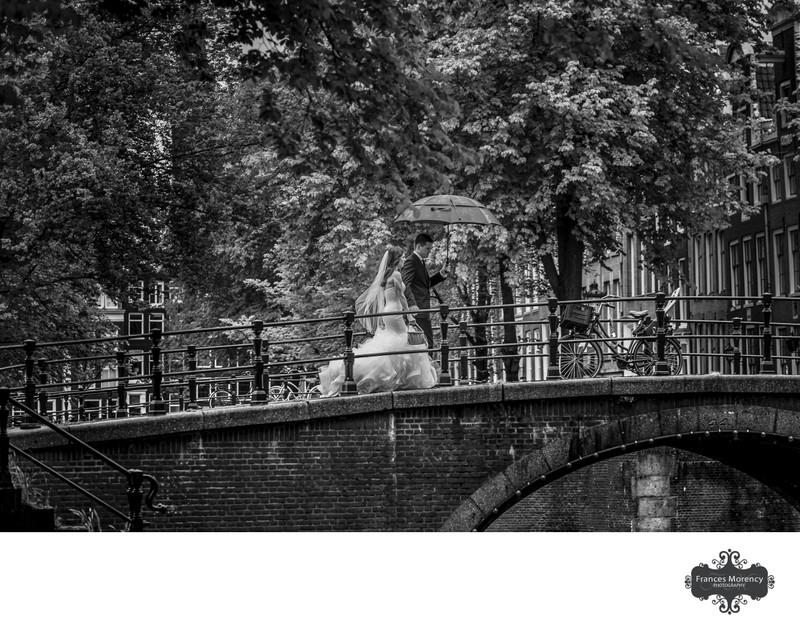 Book your wedding in 3 easy steps
Choosing me to photograph your WEDDING is simple. Just follow these three easy steps:
1. Look through this magazine and visit the website to make sure you love my style of photography. I want you to be thrilled with your wedding pictures, so loving my natural, journalistic style and art focused images is a must.
2. Contact me to see if your date is open and to set up a time to chat. We'll talk about your wedding day, show you the beautiful albums I offer, and help you customize a package that works best for you. Make sure you've checked out the packages and read through the pricing guide so that there are no surprises.
I know how valuable your time can be and we can certainly discuss all your wedding day photography needs over email if that is easier for you. Out of town? no problem I use SKYPE
3. Send your contract and $1000 retainer fee to secure your date! Once I have these two things, I am officially your wedding photographer and the date is reserved for you!
It's that easy. Contact me today to choose me as your wedding photographer. You'll absolutely love working with me and it will show in how I capture your wedding day story.