Adamo Estate Winery
The wedding day started a Hockley Valley Resort where the large family gathered to get ready before heading to Adamo Estate Winery next door for the ceremony and reception.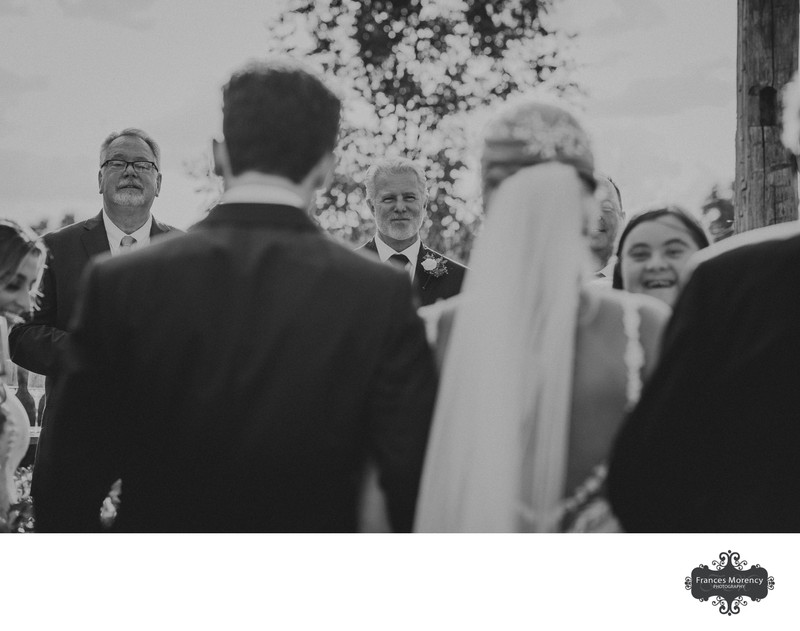 THE VENDORS:
Their Story
How did you meet?
Parker and I met at a fundraising dinner for my special needs daughters program Able Network that she attends.
What do you remember most about your first date?
Being very nervous , however we had a terrific meal at Locale king city and started to get to know one another a little bit. What I remember the most were Parkers gorgeous blue eyes.


When did you know he was the one?
I had to go away for a month to California a couple of weeks after we met for the birth of my second grandchild. It was my birthday while I was away and Parker searched the internet to locate my friend I was away with to find out the address I was staying . He sent me the most beautiful bouquet of flowers for my birthday. No one had ever gone through that much trouble to send me flowers on my birthday. I knew he was a keeper after that.


How did you feel the moment he proposed?
Were you surprised by his planning?I was thrilled when he proposed , we were at a beautiful cottage that we had rented for a week, he proposed to me on our last night there. I had a feeling it was coming , I was hopeful it would happen while we were there ... it did !




Why did you choose this venue?
We wanted to get married at a vineyard. We stumbled upon Adamo coming home from Collingwood . We had no idea it existed. We knew right away when we saw it that it was the place we wanted to get married at.
If you could use 3 word to describe the theme of your day what would they be?
Rustic , Elegant , Magical




Memorable moment from your waking up the morning of and getting ready for your day?
Feeling so blessed to have my 4 daughters , 3 stepdaughters and my son surrounding and supporting me in the bridal suite while we all got ready for one of the most memorable days of my life ...


Tell me your feelings about who and why you chose to be with you while you put your dress on?
My eldest daughter Rachel was my Matron of Honour , she also was with me to help me into my gown. It was a special and rare moment to have my first born with me during that time.


What did you feel and remember from your ceremony?
I felt so grateful to have the most perfect weather , the sun was shining down on us , our family and friends while we said our vows looking over the vineyard. We had a sand ceremony blending our two families , it was a special moment that will hold a big place in my heart for ever.


Who and why walked you down the aisle?
My father and my son walked me down the aisle. I don't think that needs much of an explanation as to why. How lucky am I to have been able to have my 82 year old father and my 26 year old son walk me down the aisle to give me away to the most incredible man I have ever met ?


Comments / Tips about your venue for future couples?
Hire a wedding day planner , Adamo told me I would not need one ,that they would provide someone for me the day of. I had worked with an employee up until two days before the wedding whom I quite liked and had a good relationship with, I thought she would be there the day of the wedding. I was passed onto someone I had never met the night before . She had not even read the schedule for the day of and had very limited information as to what was happening during my wedding day. A number of things went wrong the day of the wedding that I had to deal with right up until I walked down the aisle. It was stress that I should not have ever had to endure . I needed and regretted not having a wedding planner.


What did you talk about during your first dance together?
Our speeches to one another that we had just given , how much we loved one another , how much fun we were having and how beautiful the sunset was !


What did you do together the next day that was memorable?


We drove up to our cottage in Haliburton for some R and R with a few of our kids.


If you could tell engaged couples 3 things not to stress about on the wedding day what would it be?


That no one will notice the little things that may or may not go wrong.
That only you will know.


The weather , when you hire the right photographer ( Frances Morency) they will make your photographs of your day beautiful rain or shine.


The day will come together no matter what unfolds , the people that you have invited are there to celebrate your love and happiness and will have an amazing time no matter what.