Belfountain - Rachele & Chris
Belfountain Conservation engagement photographer
Local engagement photographer captures photos at Belfountain Conservation for couples who love the outdoors. Caledon park offers suspension bridge, terrace & pond for portrait backdrops.
What is it about my photos that speaks to you?
Your photos are timeless. They capture the most important moments - the reactions, the moments in between everything else. They show who we are as a couple by capturing the story between us.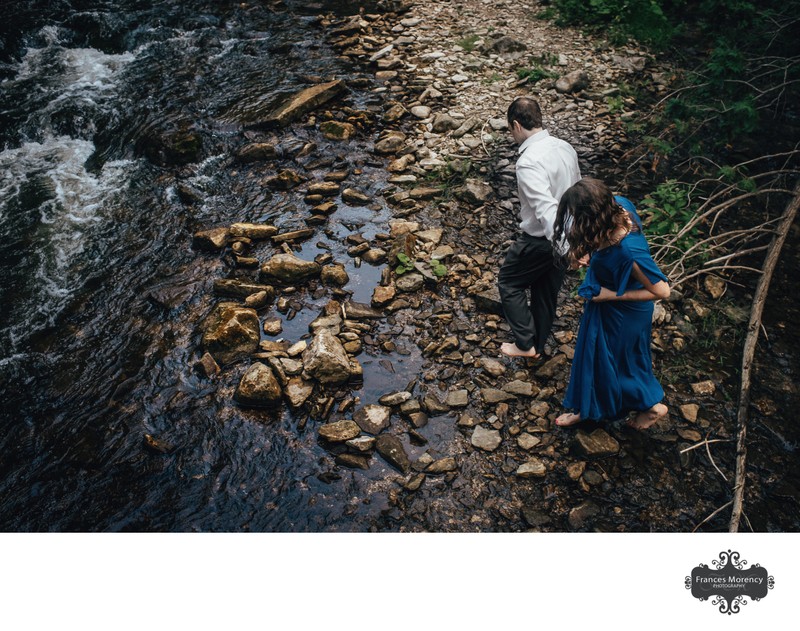 How did you meet?
Mike and I actually met when we were kids. Mike is my best friends brother, so we grew up as acquaintances. The type of people that would say hello with a one-arm hug when we saw each other but didn't talk much more than that. We began talking in August of 2016 on Facebook when I commented on a post that Mike shared, reminding him to keep his head up no matter what others think or say. A couple weeks later I messaged him in a private message to see how he was doing and we have talked every day since.


What do you remember most about your first date?
Everything! Our first date was planned for about a month but wasn't formally called a date until about a week before when I not so discreetly mentioned that our plan to go to Halloween Haunt at Wonderland was in fact a date. It was the Saturday of Thanksgiving in 2016; I was visiting my family in Hamilton for the weekend so we thought it was the perfect time to go since I wasn't home often. Mike picked me up from my parents house and took me for dinner at Kelsey's before heading to Halloween Haunt. Over the course of the evening, Mike jokingly made fun of me because I had lost my voice right before coming home, which now that I think about it, might have been a blessing in disguise because it took longer for Mike to learn how much I talk and it helped me hide the fact that I was terrified on the rides and in the haunted houses.
When did you know he was the one?
I knew Mike was the one when he was all I could think about. I know that sounds corny and it absolutely is but we were doing long distance at that time and all I could think about was what he was doing, if he was okay and how badly I wish I could be with him every day. Around the same time, I had this urge to tell him I love him every time we would talk on the phone but we hadn't said it yet so when we would hang up, I would say "I love you" to myself until finally, I messaged him and told him that I wish I was saying it in person but that I love him. I was so nervous about whether or not he felt the same so I threw my phone so I didn't have to look at it until I heard him message me back telling me he loves me too.
How did you feel the moment he proposed?
Were you surprised by his planning?The moment he proposed was overwhelming and emotional. It was right after midnight on January 1, 2019. We were at my sister and brother-in-law's and after he said Happy New Years, he grabbed me and told me that he loves me and wants to spend the rest of his life taking care of me and protecting me (while my sister screamed of excitement in the background) and before I could even register what was happening he was down on one knee asking me to be his wife. It was the perfect surprise.
What do you like to do as a couple?
We are a pretty easy going couple. We like to have fun but we also love evenings of relaxation. Some of the many things that we like to do together include: going to YukYuks Comedy Club, binge-watching TV shows, playing board games, and going on walks/hikes. We love seeing new things, especially beautiful scenery.
If you could use 3 word to describe the theme of your day what would they be?
The 3 words we would use to describe the theme of your day would be: romantic, modern, fun!


What is the one thing that attracted you most about your partner?
What attracted me the most about Mike is his intelligence. Since our first conversation, he has taught me so much by bringing a new perspective to our conversations. He loves learning new things and his eyes light up when he tells me the things he's learned. What attracted me the most about Rachele is how caring she is. Since the first time we spoke, she has always been there to encourage me and support me.
Tell me 3 things about your partner that describe them best?
Three things about Mike that describe him the best are: hard working, funny, and supportive. Three things about Rachele that describe her the best are: charismatic, loyal, honest.
Tips or advice that you would give to future couples when planning a wedding?
Give yourself time! Give yourself time with your new fiancé before sharing your excitement with the world. Let it all set in. And give yourself time to plan the wedding of your dreams without too much added stress.
How did you feel about the engagement session after it was all over?
After the engagement session was over, we felt nothing but excitement! Frances made us feel so comfortable throughout the entire session. We told her right at the beginning that we had no idea what we were doing and she said we had nothing to worry about; she would direct us as needed. She gave us some tips and ideas of how to interact with one another while still making ourselves visible to the camera and from there, we just had fun. The pictures that Frances took are absolutely stunning and we can't wait to see how our wedding pictures turn out!