The Gladstone Hotel Wedding Photographer
Check out a full wedding day at a Gladstone Hotel Wedding with Frances Morency as your wedding photographer. Choose FMP to shoot your wedding photography
The Bridal Suite is light and bright and has plenty of room for hanging out with your wedding party while you get ready.
How did you feel about the engagement session after it was all over?We felt great! We were very comfortable by the end and understood how the pictures on our wedding day will be taken. We definitely want to practice our posing and the art of walking around each other!
Ask for the suite with access to the outdoor deck and view of the city. This space will get you city views in your photos and allows you to have a private space for your first look and some of your portraits.
This was March and it snowed so an overcast day will hinder your views of Toronto, but if you have a sunny day image the photos with the CN Tower as your backdrop.
Learning to see differently is a great quality in your wedding photographer and I'll try and get creative images at every wedding.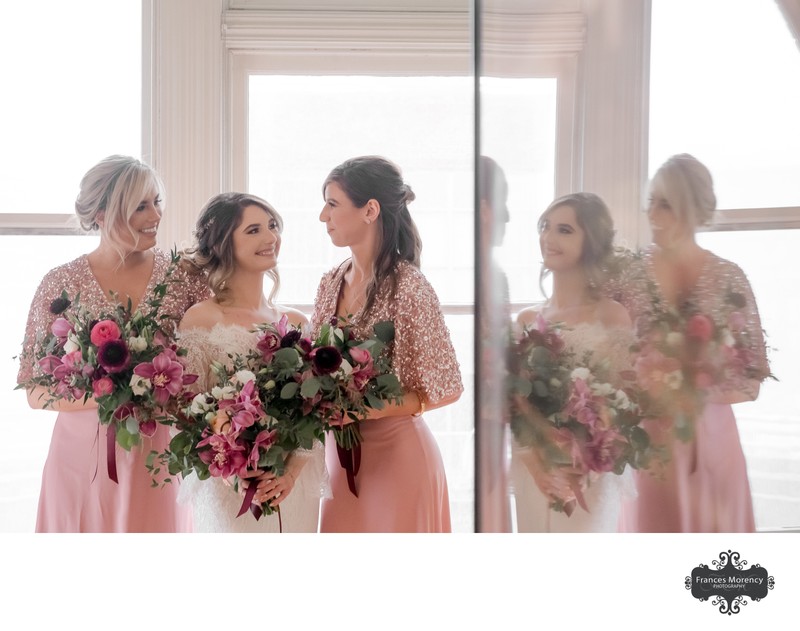 This ceremony space was beautiful with edison lights and lots of window light.
Saturated orange walls were the ideal location for wedding party portraits when it's cold outside.
How did you meet?We met 6 years ago while working at our local Canadian Tire. We were both in attendance at the staff holiday party, that's where we really hit it off. Shortly after we were official!
What do you remember most about your first date?We went to a local restaurant and shared multiple plates of nachos & gin and tonics. We spent hours talking, laughing and learning more about each other. Gin & tonics are still our favorite drinks.
When did you know he was the one?Shortly after our first date! I felt like I had known him for years. Our conversation was so easy and flowed naturally. After our first date we started hanging out every single day. 6 years later and we are still best friends, spending as much time as we can afford with each other!
How did you feel the moment he proposed? Were you surprised by his planning?In all honesty I knew the proposal was coming BUT I was surprised in his planning! He took me to Casa Loma for some 'nice photos' (that was out of norm for him). What I didn't know was his family and some friends were hiding in bushes recording the moment for us! It was a wonderful moment to turn around and see our friends and family there to congratulate us. Made the moment that much more special!
What do you like to do as a couple?We love taking our Shepherd for adventures, exploring local parks and beaches. We also attend many concerts or music festivals in the city, getting a chance to see some of our favourite artists!
If you could use 3 word to describe the theme of your day what would they be?Whimsical, intimate, rustic
What is it about my photos that speaks to you?The emotion that you capture in every single frame! Each shot evokes a different feeling, making all your photos truly unique.
What is the one thing that attracted you most about your partner?How much respect and love he has for the women in his life ( Mother & Grandmother)
Tell me 3 things about your partner that describe them best?Patience, laughter, love Patience for dealing with my strong personality and for being the most wonderful dog-dad. Laughter for always having a smile on and trying to see the best of situations. Love for the sheer amount Marshall gives! He is loving and kind to every person he meets.
Tips or advice that you would give to future couples when planning a wedding?Take it Day by day! There are so many resources online to help with the planning process. Also listen to what you want more rather than what others tell you. It's your day!