Frances Morency Photography
Naarden Destination Wedding Photography
This photograph was taken at the entrance of the walled fortress in Naarden just 20 minutes outside of Amsterdam.
Frances was absolutely amazing! She made us feel so comfortable and really went above and beyond to make sure we had the most beautiful photos. Her direction was very helpful and she took charge of everything so that we did not have to worry at all about who was in each photo and what we should be doing. She also had some very creative ideas that turned into some of our all time favourite photos.
Now, I don't even know what to say about your wedding except from the point of view of a photographer just WOW. The way you two are together made my job much easier. The timing, the locations and the fact that you loved being photographed was a dream for me. I look forward to more weddings with your amazing group of friends and family. xo
We started the bridal prep at the bride's AirBNB apartment. Then we photographed the couple in Amsterdam streets while we walked towards a waiting bus carrying the entire wedding party and parents.
That's me! what a location and I rarely have my photo taken but come on now!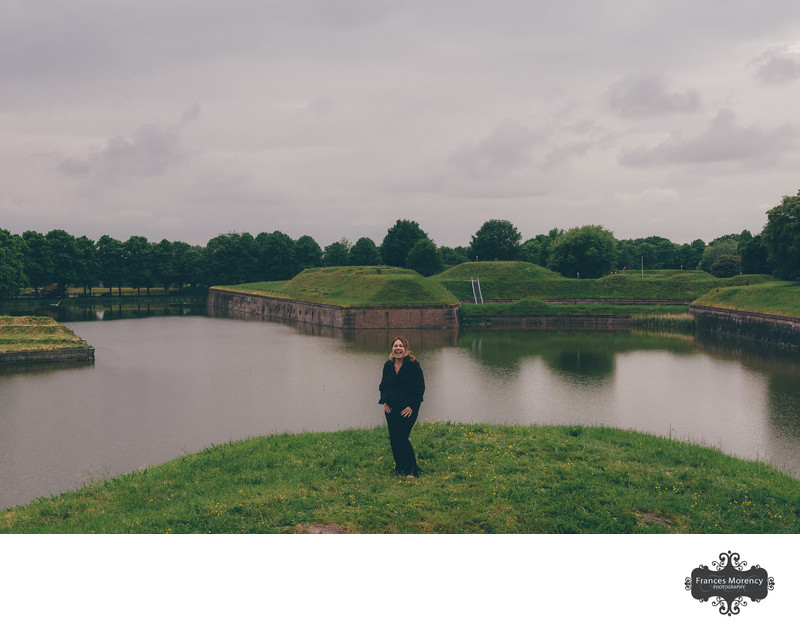 PHOTO LOCATIONS
Bridal Preparations: Amsterdam Airbnb and Amsterdam streets and canals

Ceremony: Naarden Town Hall

Wedding Party and Family Photos: Naarden Town Hall and streets of Naarden

Bride Groom Portraits: Walled Fortress of Naarden and Naarden street around the quaint little town.

Reception: Restaurant Aquavite

Ask me about my discounted rates for this location including free travel for European weddings




Location: Naarden, City in the Netherlands.

Keywords: Amsterdam (12), Destination (81), portraitscape (13), Review (20), wedding couple portrait (179).

1/1000; f/4.5; ISO 640; 24.0 mm.