Frances Morency Photography
The Omni King Edward Hotel Weddings
I love jewish weddings and all the traditional elements that come along with it including photographing the couple during the hora and reception.
The Hora is a celebratory dance at the reception where guests dance in a circle. The bride and groom get seated on chairs and lifted into the air while holding onto a handkerchief or cloth napkin.
Ketubah Signing
The ketubah is a symbolic Jewish marriage contract outlining the groom's responsibilities to his bride. The conditions listed to provide in the marriage, the bride's protections and rights, and the details should the couple divorce. Ketubahs are not religious documents, but are part of Jewish civil law. There is no mention God the ketubah. The document is signed by the couple and two witnesses before the ceremony takes place, then is read to the guests during the ceremony.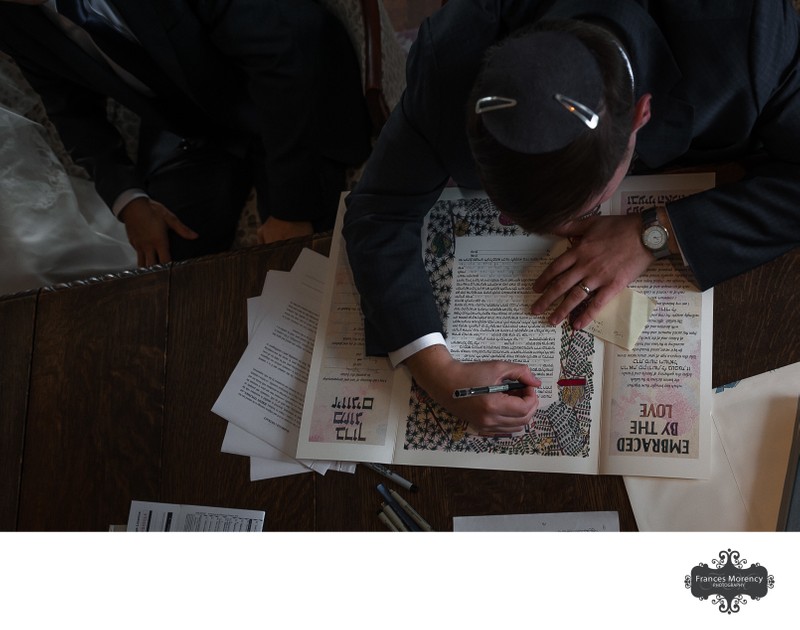 Bedeken
During the ketubah signing, grooms approach their brides for the bedeken, or veiling. He looks at her and then veils her face. This signifies that his love for her is for her inner beauty, and also that the two are distinct individuals. "A tradition stemming from the Bible wherein Jacob was tricked into marrying the sister of the woman he loved because the sister was veiled." If the groom does the veiling himself, such trickery can never happen.
The Walk to the Chuppah
The groom's parents walk him down the aisle to the chuppah, then the bride and her parents follow. Both sets of parents stand under the chuppah during the ceremony, as well as the bride, groom, and rabbi.
Vows Under the Chuppah
A chuppah has four corners and an overhead covering symbolizing the new home the bride and groom will build together. At this ceremony, the four posts of the chuppah were held up by family members throughout the ceremony. This is a gesture that signifies their support for the couple building a life together.
Ring Exchange
Traditionally, the rings are placed on the left forefinger because the vein from your forefinger goes right to the heart.
Breaking of the Glass
Once the ceremony comes to an end, the groom will be stepping on a glass incased in cloth to shatter it. Some say, breaking the glass symbolized the destruction of the Temple in Jerusalem. The cloth holding the shards of glass is collected after the ceremony and given to the couple as a keepsake.
Where ever you are having your jewish ceremony, I would love to be the one to photograph all these moments for you.

Location: King Edward Hotel, 37 King St E, Toronto, ON M5C 1E9.

Keywords: King Edward Hotel, reception (44).

1/200; f/4.5; ISO 1250; 32.0 mm.