Alberta Destination Engagement Photographer
Nakiska Ski Area for this winter engagement photo session with a couple of skiers who love the Canadian Rockies.
I have family near Lake Louise, Alberta so flying to Calgary for an engagement session was like going home. I got to photograph and epic engagement session in the winter no less in the Canadian Rockies......bucket list worthy photography location.
The flight was on me since they also booked their wedding photography and they took care of the rest.
How did you feel after the session was over?

Cant believe it went so fast, and felt so easy/goofy.

We had lots of fun and are super excited for our wedding photos.




What is it about my photos that speaks to you?

Theres a feeling in them. You can tell that thought went into every photo, how it was framed. The contrast, use of available lighting and colour is thoughtful. The photos are sharp and clear but also have a softness to them.
THEIR STORY
How did you meet?
We met at a ski show, where I had gone to learn more about the Alberta Masters Ski Club. We really got to know each other the next year when I crashed my car and needed to carpool to get to and from skiing. We would spend the entire car ride talking.
What do you remember most about your first date?
It was very spontaneous, we didn't really have a plan for dinner but decided to do it.
When did you know he was the one?
When he supported me fully and unconditionally through a tough career change. I went through training to become a firefighter, and didn't even have time to think about anything else other than that for the intensive 3 months. When I came home each night, he would have a meal ready for me, give the time and space I needed to study and keep me sane while I felt I was going crazy.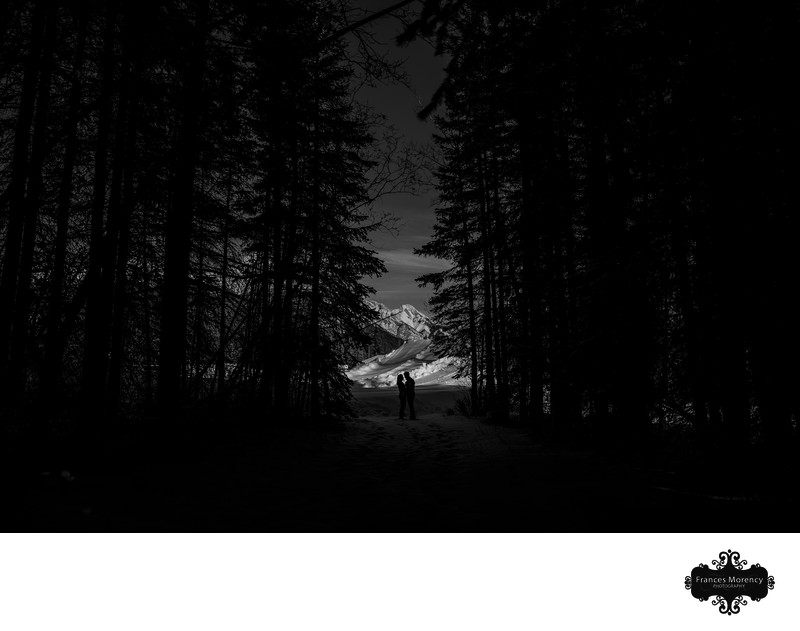 How did you feel the moment he proposed? Were you surprised?

Surprised and happy. He organized a big thing at the gym, I'm amazed he was able to keep that secret for as long as he did.

What do you like to do as a couple?

Everything.




We like to workout together, ski, run, hike, hangout outside.

We also love to sit at home and watch Netflix and Disney Plus, discuss science topics we know very little about and learn new things together




What is the one thing that attracts you most to each other?

Lauren : He pushes me, to be better, to do more, to try new things.




Derek: I'm attracted to you? The way she smiles with goggles on, the goggles push on your cheeks and give you cute dimples and then your face lights up. ( we ski a lot)




Tell me 3 things about your partner that best describes them?

Lauren: Thoughtful, Caring, Makes me laugh

Derek: Caring, Thoughtful, Athletic ( no I didn't tell him what I wrote before I asked him)




Location: Nakiska Ski Area, 2 Mt Allan Dr, Kananaskis, AB T0L 2H0.

Keywords: Destination (50), engagement (132), winter engagement (9).

1/1600; f/2.8; ISO 100; 28.0 mm.