Collingwood Engagement Photography
This bride chose a winter engagement session in the park. Collingwood has so many options for winter photo locations.
How did you feel about the engagement session after it was all over?

Going in to it, Justin and I were a little nervous because we had never had professional photos taken before. This all went away because Frances made it as easy as can be and time really flew by. I will cherish the photos we got for the rest of time, and it also gave us more confidence for our wedding photos.

What is it about my photos that speaks to you?
I love that Frances captures the "real" moments. Some of the unplanned photos we got with her are my favourites. She makes it so easy to forget that there is even a camera pointed at you and just have fun.
THEIR LOVE STORY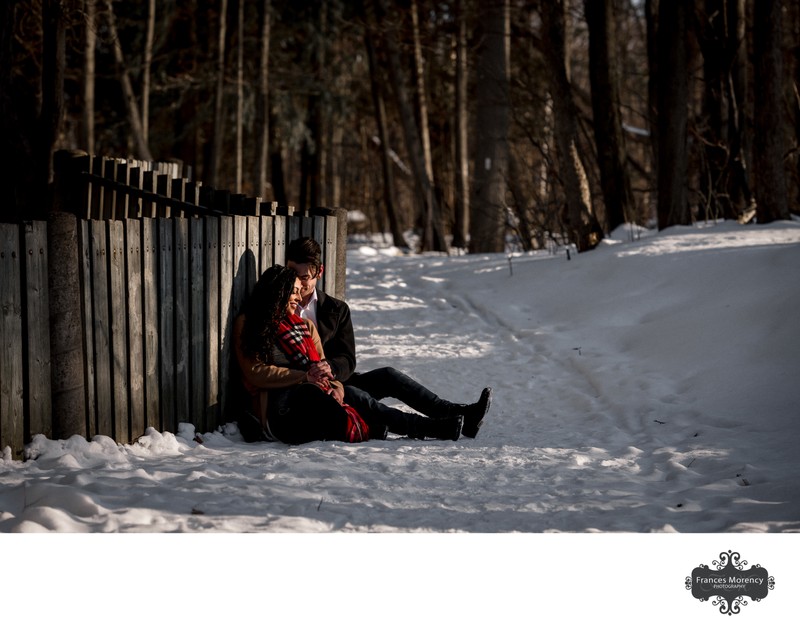 How did you meet? We both worked our first part-time job at a local Tim Hortons in high school which is where we first met. How Canadian!
What do you remember most about your first date? I remember having to wait outside for our dinner reservation by his car and both of us were sweating profusely - a combination of nerves and the 40 degree weather day we were having.
When did you know he was the one?
When Justin and I first met in high school, it was years before we actually started dating. However, on my very first day working at Tim Hortons, he was assigned to train me. I instantly developed such a huge crush that truly never went away, despite us remaining as friends. I had never felt such an instantaneous strong connection to someone before, and while I don't believe in love at first sight I can't deny how I always knew he was something special.
How did you feel the moment he proposed?
Were you surprised by his planning? To this day, I don't know if I would be able to put the feeling into words. It was a mixture of shock and pure bliss for sure. I had no idea he was going to propose, let alone that he had been planning months in advance, and it took me by complete surprise. I also came home to both our families waiting to celebrate with us together! It was the best day ever.
What do you like to do as a couple?
Justin and I like to kayak, play video games, and eat ice cream.
If you could use 3 word to describe the theme of your day what would they be?
Nature, Intimate, Fun.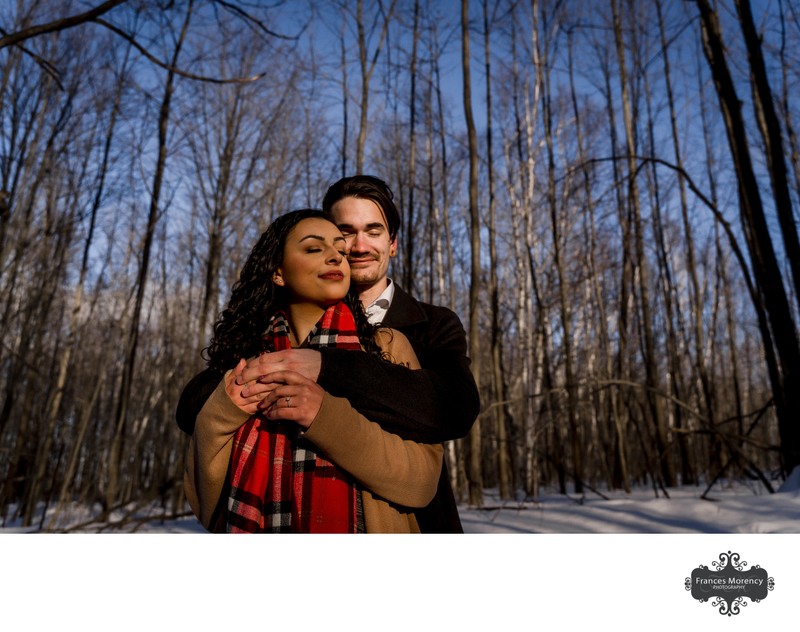 What is the one thing that attracted you most about your partner?
Trinity - I love Justin's genuineness. Justin - Trinity's character.

Tell me 3 things about your partner that describe them best?
Trinity - Justin is kind, intelligent, and loves the outdoors. Justin - Trinity is compassionate, intelligent, and beautiful.

Tips or advice that you would give to future couples when planning a wedding?
You can plan everything DOWN TO THE WIRE and there will still be a wrench in your plans somehow. Enjoy the time together as an engaged couple as much as you can, don't rush, and make sure you do what you want to do. Also, start early.




Location: Collingwood, Ontario.

Keywords: double exposure (8), engagement (127), Mono cliffs (10).

1/640; f/2.8; ISO 80; 200.0 mm.