Frances Morency Photography
Wedding Couple Walking Down Stairs: Toronto Knox College
Grab a permit for
wedding photography
and block off at least 1 hour with your photographer on the day of your wedding. Knox College is the perfect location for Toronto wedding portraits
Marlene T., married on 10/11/2018

Breath taking

Frances is amazing at what she does! Her eye for detail is exactly what we were looking for in a photographer. She's fast, friendly, professional, fun and her work is unique. All her photos are always different with different emotions felt when looking at them. We are beyond happy we had her as our photographer. Thanks for your beautiful work France!!

REPLY:

My clients are so special to me and you guys were no exception. Generous, pleasant, and fun to be will as well. I had a great experience too. Your wedding photos already stars on the website. xo Frances

Sent on 02/04/2018 Validated
MY PROCESS
I move them from location to location and photograph everything from her reaching to grab the back of her dress to him helping her down the stairs. It's important to capture the moments as a journalistic photographer and not create them.
This is the main reason I want my clients to do everything for themselves. I don't help the bride with her dress or help her into the limo......I'm photographing it. I see so many photographers missing beautiful photos because they are interacting with their couples too much instead of photographing them. I let my couples and their bridal parties interact as if I wasn't there and photograph everything that is happening around me.
PHOTOGRAPHY LOCATIONS
Knox College
With beautiful light and stunning grounds for wedding portraits in the GTA, Knox College is one of my favourites. Grab a permit and carve out an hour from your wedding day to get images in this incredible location with it's castle like feel, stone staircases and gothic decor. The light alone will give your images a sense of elegance, couture and a timeless feel.
I just asked the bridal party to walk down the staircase for me to grab this documentary image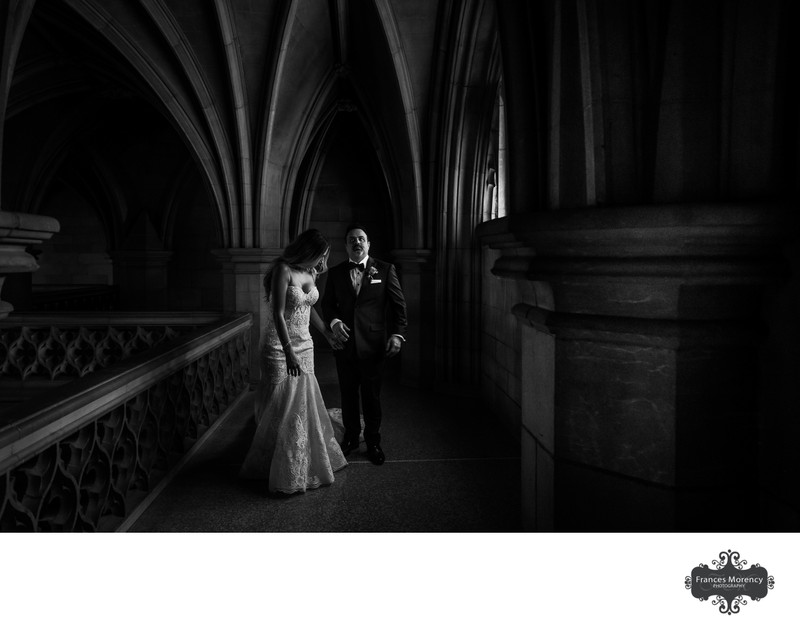 The Bride is Simply Walking Around Her Groom While I Capture a Number of Portraits with the light from the above window.

Location: Knox College, 59 St George St, Toronto, ON M5S 2E6.

Keywords: Journalistic (90), Knox College (3), Review (8), wedding couple portrait (116).

1/100; f/5.6; ISO 2200; 24.0 mm.