Bride Groom Sitting on Window Bench at Broadview Hotel Wedding
top Canadian photographer working with couples at The Broadview Hotel who want an unobtrusive documentation of the wedding day with formal portraits too.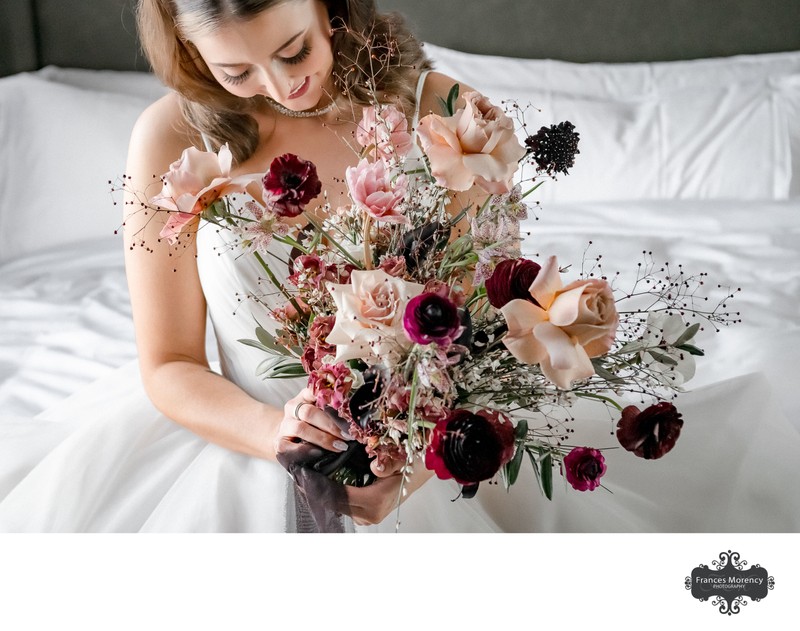 How and why did you choose your wedding photographer to capture your memories?My sister did all the hard work in finding Frances Morency! She got married in 2018, and I would have been sold on Frances just from the photos alone, but I also got to see Frances in her element and that's what sealed the deal. Frances is so professional and prepared! She is equipped for anything and everything. She gives incredible direction for photos and is so easy to be around. She is bold and funny and super talented!
Why did you choose that ceremony space? Name 3 words to describe your inspiration for your theme, style or decor? -Intimate/Romantic -Edgy -Unique
What do you remember walking down the aisle?I remember seeing Klarke smile and just being incredibly full of love. It was the easiest walk of my life.
How and Where did you start your day....... did you wake up together?After an amazing dinner out with our families and friends, Klarke and I retired to separate rooms. My sister stayed in my room with me and I woke up to her jumping onto my bed. When we opened the curtains it was a total blizzard outside! What can you do? We had hair and makeup coming for 10am and that kept us busy until we left for our photo location. Klarke and the guys went the the venue and set up the ceremony space and they did an incredible job.
Did you incorporate any cultural or religious traditions in any part of your day?
What were the florals like in your wedding? Did you use flowers throughout the entire day? I knew I wanted my bridal bouquet to be a stand-out, unique and fun. My venue coordinator recommended Hunt & Gather. It only took a second on their Instagram and I was sending them an email. My flowers were everything I could have imagined. They were the most beautiful flowers I have ever seen, hands-down. I knew I was going to be getting something really special so I chose to display the flower bouquets on the head table for the reception.
What 3 things helped nail your decision about your wedding venue?We really loved that the space required very minimal decor on our part. It was special enough with the wood floors, brick walls, huge windows and beautiful bar. The venue location was perfect, short walks to accommodation and parking. We loved that the venue had it all! An assigned coordinator, food and drink, set-up and room flips, serving staff, sound equipment, linen services, coat-check just to name a few! It made our planning super minimal and stress-free!
Most memorable moments from your wedding day?Getting to spend some alone time together during our first look/bride and groom portraits was so special. It was the only time during that entire day that it was just the two of us! We got to really just enjoy each other and the moment, we had a lot of fun! It was also pretty fun to wonder around the entire hotel in that dress!
If you could use 3 word to describe the theme of your day what would they be?-Upscale -Modern -Elegance
Comments / Tips about your venue for future couples?Second Floor Events made planning our wedding a breeze. They handled most everything for us and did such an incredible job. They know how to throw a party!
Getting Ready Hotel & Portraits: The Broadview Hotel
Venue: Second Floor Events
Venue Coordinator: Cindy Li
Photographer: Frances Morency and Khristal
Caterer: Second Floor Events
Officiant: Jonny Belinko
Hair and Makeup: Toronto Beauty Group
Florist: Hunt & Gather
What did you talk about during your first dance together?I just remember singing! And laughing! We love to dance, so we had a lot of fun with it.
What did you do together the next day that was memorable?When we got home it was late afternoon and so we ordered some take-out and watched a movie in bed. And we stayed there! We had breakfast and coffee in bed and opened all our wedding gifts and cards. Then we packed up for our honeymoon!
If you could tell engaged couples 3 things not to stress about on the wedding day what would it be?

I think no matter what you will feel some sort of stress day-of but it's important to remember that there are people with you willing to handle potential stresses for you! Pass it on! I think it's also important to remain loosey-goosey for the entire planning phase right up to the day. Be open to change and different ideas, go with the flow!
Location: The Broadview Hotel, 106 Broadview Ave, Toronto, ON M4M 2G1.

Keywords: The Broadview Hotel (5), the broadview hotel wedding photographer (3), Toronto Wedding Photographer (6).

1/200; f/4.5; ISO 400; 24.0 mm.