Owen Sound Engagement Photographer
I met these two in Owen Sound at Sunset to Photograph them in the location where he proposed.
How did you feel about the engagement session after it was all over?After the engagement session I couldn't believe how much fun we had considering neither of us like having our photo taken. And Of course couldn't wait to see our photos.
It was cold!! They asked for a winter session and did not back down. They had this amazing farm which was his family farm and I met them there. This outbuilding was crazy good with the stone and red roof and then the sun came through the clouds and I was singing to the heavens.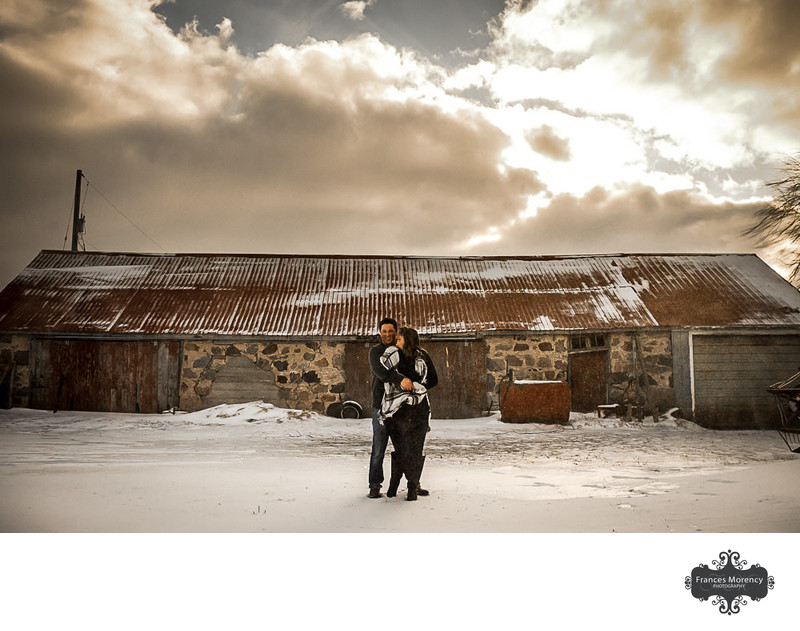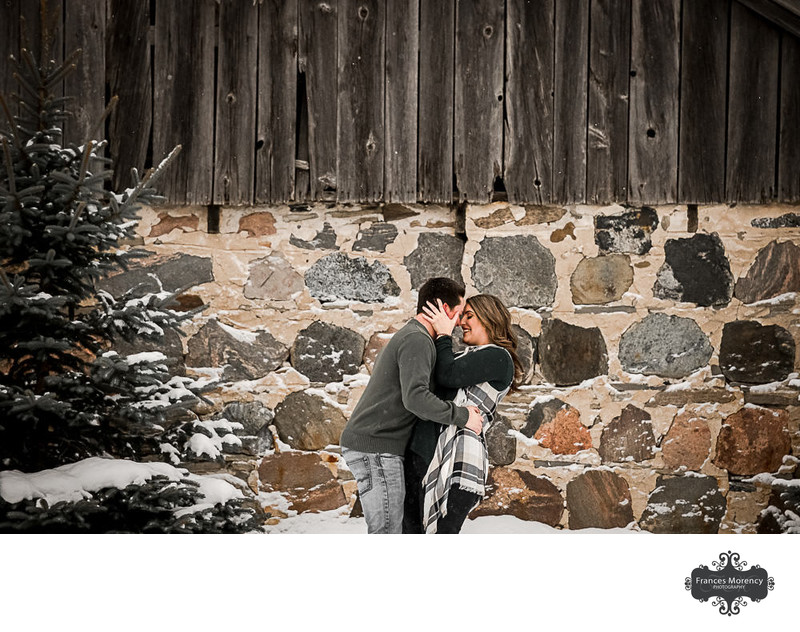 These two were awesome with no coats on. We stayed on the property so that if it got to be too much they could definitely go inside. I was dressed and good to go for hours, but they were feeling the frigid 20 below zero cold.
He grew up in the area, so knew all the cool spots for photos. We headed down to Georgian Bay in the wind and stayed by the water for a few minutes before it go unbearable.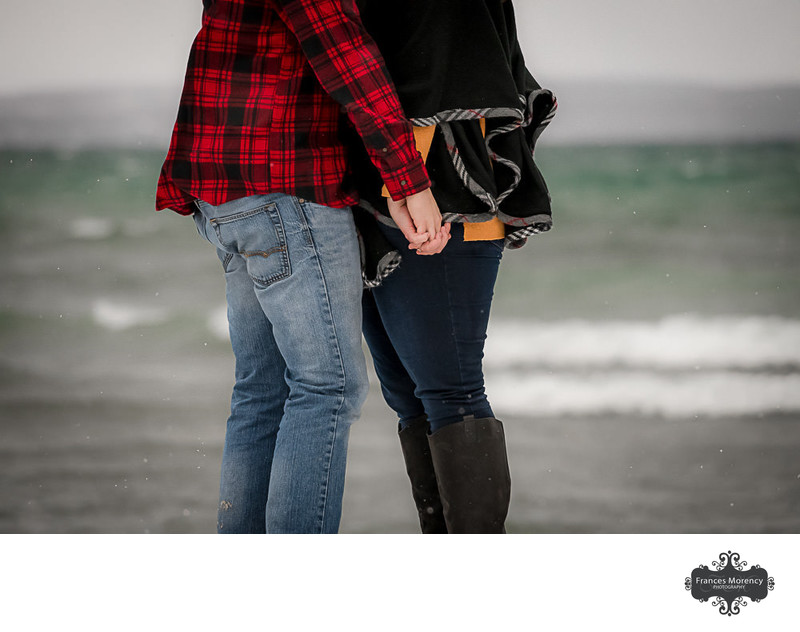 How did you meet?Our first year in college his roommates approached my residence dorm to ask myself and roommates if we would like to play a game of beer pong. Leading to many friendships we finally met at a party with his roommates where we met a month into school. A good friendship between the two of us grew and then eventually into dating.
What do you remember most about your first date?I remember our first date was sometime in the winter months, I happened to have my parents car for the week so we took advantage. We went to Kelsey's for dinner then to a super old, cheap movie theatre to watch The House at the End of the Street. There were very few people in the theatre, a rip in the screen and the most uncomfortable chairs.
When did you know he was the one?A year after knowing each other and finally becoming a couple, I just always had a feeling that he was the one.
How did you feel the moment he proposed? Were you surprised by his planning?The moment he proposed I was overwhelmed and couldn't believe it actually happened. Before he proposed I had a feeling it was going to happen soon but as to when I had no idea. He always said I would never see it coming, that it would be a big surprise. I had no idea he had even been ring shopping let alone had my ring custom made!
What do you like to do as a couple?As a couple we enjoy being outdoors, whether we are playing a round of golf, camping, throwing a baseball around. Or simply just enjoying a nice cold beer in our back yard. We also enjoy a good dinner and a movie night every once in a while.
If you could use 3 word to describe the theme of your day what would they be?Vintage, rustic, and fun
What is it about my photos that speaks to you?I love that your photos tell a story in a way that we will remember our day.
What is the one thing that attracted you most about your partner?His big caring, loving heart. He will do anything to help anyone before even thinking about himself.
Tell me 3 things about your partner that describe them best?Athletic, funny, and caring.
Tips or advice that you would give to future couples when planning a wedding?Enjoy it, and don't stress over the little things. Everything will come together.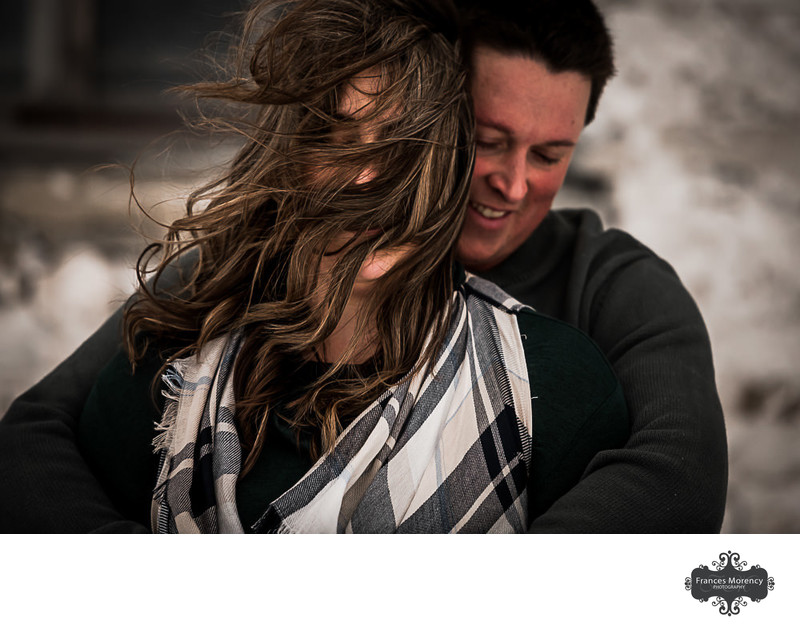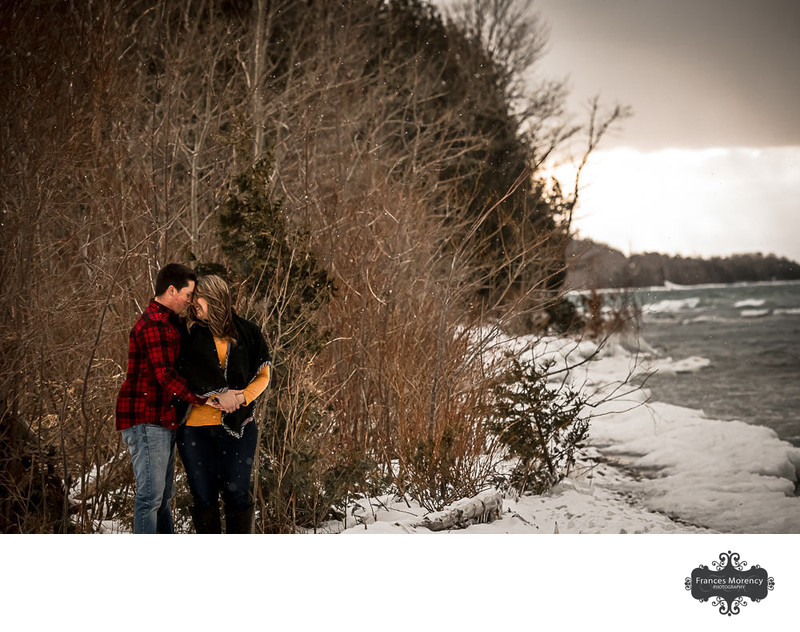 Location: Owen Sound, Ontario.

Keywords: owen sound (8), winter (30).

1/8000; f/4.5; ISO 1400; 200.0 mm.