Best Engagement Photography in Barrie
As an engagement photographer, it's my job to get the best images of you no matter what location you choose in Barrie.
How did you feel about the engagement session after it was all over?It was easier than we had anticipated. Frances' directions were very helpful and made the session fun.
This couple trusted me every step of the way with the locations and the light. We walked around for a couple of hours and just stopped to take photos whenever I saw a great image.
We stopped on sidewalks, on steps, in front of beautiful homes, on the street with weeds, alleys, gardens and stone walkways.
Here they are just sitting on a cement retaining wall amongst the rose bushes. Using my 70-200mm I'm able to compress the background for a beautiful portrait.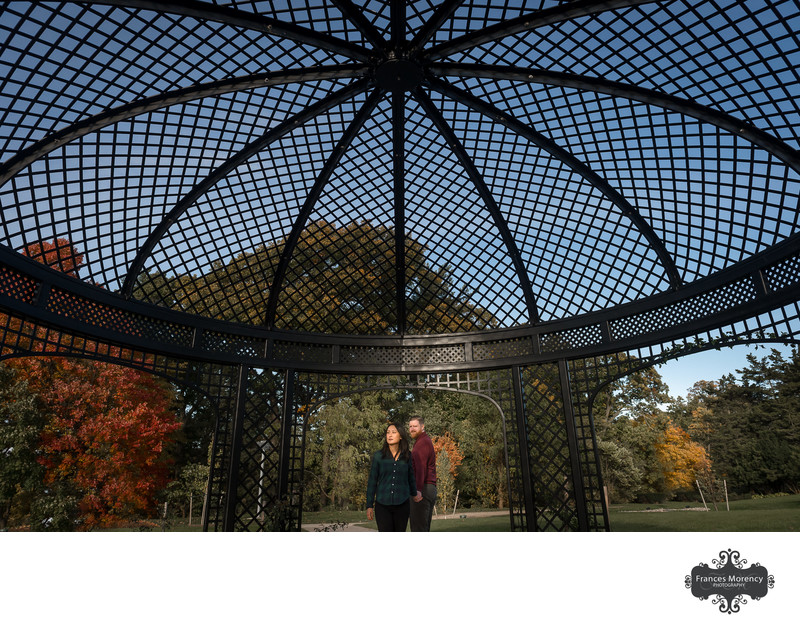 A mall entrances is not your typical location for a photo, but I see the lights inside and the dark entryway. It allows me to isolate my subjects from the background that really doesn't need to mean anything except for great colours.

Inside an office building we work quickly and quietly....get the shots and get out. Sometimes you have to venture inside to see what the light is doing when we came across these cement walls and blown glass balls.

Using that same wall with harsh contrasting light and I just put them in the sun for this shot.

This can be anywhere. All I need is a dark background and a tree to create images like these.

How did you meet?we met online

What do you remember most about your first date?Frank: her beautiful smile Barb: being super nervous but then seeing him and thinking "he's cute!"

When did you know he was the one?He made me feel comfortable when I felt vulnerable

How did you feel the moment he proposed? Were you surprised by his planning?Frank planned a surprise and when it happened I didn't realize immediately what was happening. I was definitely surprised!

What do you like to do as a couple?we like watching bad movies, checking out breweries and restaurants, and board games.

If you could use 3 word to describe the theme of your day what would they be?low key, intimate, and fun

What is it about my photos that speaks to you?Frances' photos are moody, dramatic, rich in colour, and full of emotion

What is the one thing that attracted you most about your partner?Barb: his kindness and awesome ginger beard Frank: her sense of humour

Tell me 3 things about your partner that describe them best?Barb: Frank is open minded, laid back, and has a good sense of humour Frank: Barb is playful, analytical, and thoughtful

Tips or advice that you would give to future couples when planning a wedding?don't overthink things




Location: Barrie, Ontario.

Keywords: Barrie (7), engagement (132).

1/1250; f/4.5; ISO 1000; 155.0 mm.