Spring Creek Gavel Farm Wedding Photos at Sunset
Barn reception with gorgeous sunset portraits on the road next to Sure Bid Auction Svc. in Hepworth
This is another venue that surprised me this year! I arrived on a property with numerous barns, a large open field with the most stunning pond and fountain surrounded by lush colourful gardens. The photos on this property were endless and I could photograph many many weddings at this venue and still create something original for my clients.

Photography: Frances Morency Photography
Caterer: T & M BBQ Catering
DJ: The Dance Sound
Minister: Greg Yantzi
Makeup: Beauty By Courtney
Hair by Joani
Florist: Serendipity Florals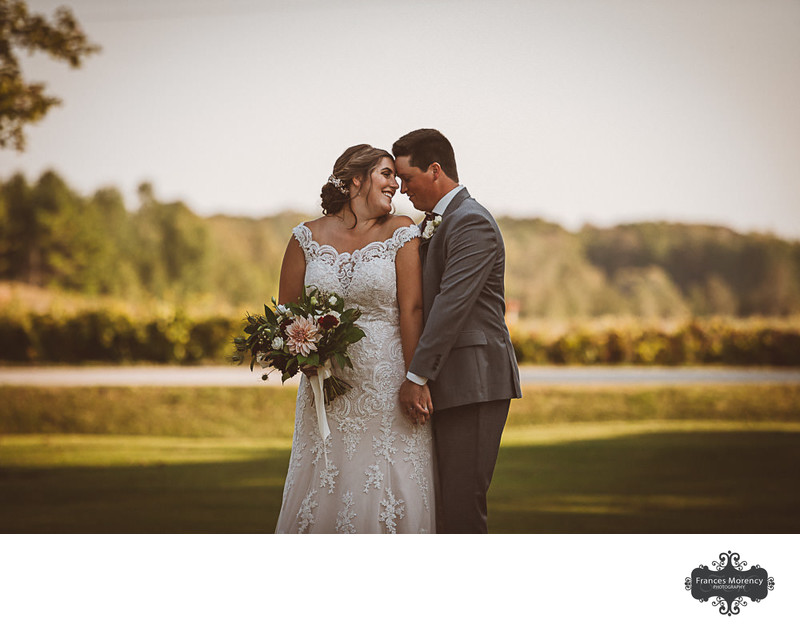 THEIR LOVE STORY
How did you meet? Tyler and I met at college in residence after getting to know his roommates first. It wasn't long after we met that we became really good friends.
What do you remember most about your first date? We went to the sketchiest movie theatre to watch a scary movie and managed to make the best of it. Truly made for a memorable date that we will never forget.
When did you know he was the one? I always said very early on in our relationship that I was going to marry him some day, not knowing it would actually happen. But I would say I knew he was the one shortly after college when we were doing long distance and nothing seemed to change. I thought if we can do this we can do anything.
How did you feel the moment he proposed? Were you surprised by his planning? We were both hungover when Tyler decided to propose, but even when feeling like crap I could not wipe a smile off my face even with tears running down my cheeks! Then the holy shit we are getting married hit. I was a little bit surprised by his planning because I had no idea he had a ring let alone thought of buying a ring. But as it came closer to the moment he proposed I noticed he was acting a little funny and thought maybe, but didn't want to think into it too much.
Why did you choose this venue? We chose Spring Creek Gavel Farm for our venue because it had everything we wanted and felt that the owners would be great to work with after meeting them. My dream has always been to get married in a barn with draping lights from the rafters and we had the availability to do that here. We also wanted a location to have the ceremony and reception at one place and the bonus of having the house for the ladies to get ready in made it all that much better.
If you could use 3 word to describe the theme of your day what would they be? Country, rustic, and fun
Memorable moment from your waking up the morning of and getting ready for your day? Tyler and I decided to write letters to each other for the morning of the wedding. I remember reading his letter and laughing because that's who he is, he always knows how to put a smile on my face or make me laugh. But all in all, getting ready with my bridesmaids and mom and future sister-in-law made it a wonderful start to the day. I couldn't have asked for a better group of ladies.
Tell me your feelings about who and why you chose to be with you while you put your dress on? I chose to have my mom help me put my dress on the day of my wedding because she has always been there for me and no matter what made sure she was at every fitting over the past year. I also wanted to surprise my bridesmaids and do a first look with them as most of them had only seen my dress once.
What did you feel and remember from your ceremony? I remember feeling so much love, happiness and joy. After the tears of walking down the aisle and locking eyes with Tyler I remember feeling and thinking to myself this is the best day! I couldn't stop looking at him and smiling.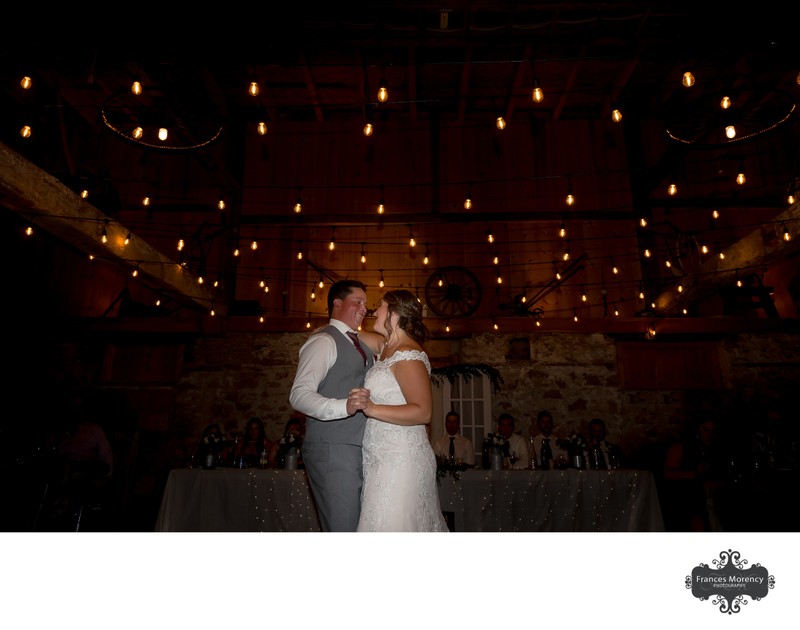 Who and why walked you down the aisle? I chose my dad to walk me down the aisle as he was my first love. He has been there for me since the day I was born and always a big supporter to comfort me.
Comments / Tips about your venue for future couples? Our venue says it seats 180 comfortably, we seated tables for 165 using 8ft rectangular tables and wanted to leave the dance floor open so we didn't have to move tables after dinner. That being said I don't think we could have seated 180. Other than that, don't be afraid to ask them questions about your day. They were so easy going and we were able to do everything we wanted and make the barn the way we wanted it.
What did you talk about during your first dance together? To be honest we didn't talk much during our first dance. We both enjoy singing along to music whether we sound good or not. So we sang most of our song to each other as we danced. One thing I do remember us talking about was how long the song felt as everyone was watching us dance in circles.
What did you do together the next day that was memorable? The next day after cleanup, we went back to the O'Reilly farm and had lunch with our immediate family and wedding party. After that we opened our gifts and just relaxed during the day. We loved talking to everyone and listening to stories from our wedding night and hearing how much fun everyone had. Took some time and relaxed in the hot tub, was nice to just reminisce just the two of us of our day!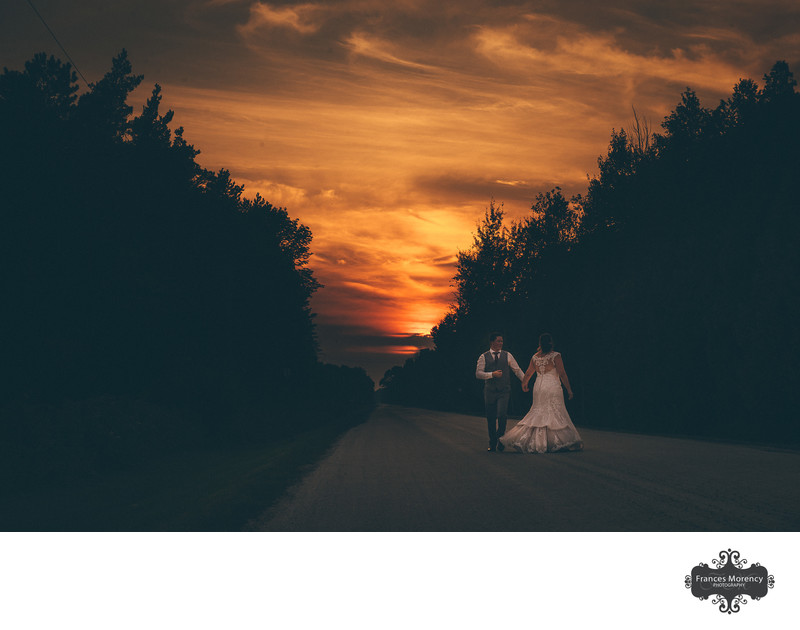 If you could tell engaged couples 3 things not to stress about on the wedding day what would it be?

Three things I would pass on to engaged couples to not stress about would be the little things. No one will notice the little things the day of the wedding and neither will you. Second thing, your seating chart. This one I found hard not to but tried to remember that they aren't sitting for very long. And lastly don't stress out over the weather, that is something that you can't change.
Location: Spring Creek Gavel Farm, 562 Spring Creek Rd, Hepworth, ON N0H 1P0.

Keywords: Spring Creek Gavel Farm (9), Sunset Portrait (4), wedding couple portrait (128).

1/200; f/11.0; ISO 640; 70.0 mm.