ASSOCIATE PHOTOGRAPHERS
Team of journalistic photographers to document your wedding day in an unobtrusive style. Studio of pro image makers cover events in Collingwood & Toronto
"WHAT I LEARNED FROM COVID-19......my brides were so happy to have chosen a studio with team of photographers. Great backup photographers in place for any emergency."
My team of photographers are fantastic lead photographers in their own rights. They all have many years of experience running their own wedding business and working along side me.
Here's why you should choose an associate photographer!
pro photographers with years of experience
pro equipment
back up equipment
reliable transportation
trusted & hand picked by Frances
ALSO INCLUDED:
continuous photography by FMP associate
BONUS: Frances Morency will photograph event if not booked herself.
full size colour JPG files
full size black & white JPG files
convenient full size downloads
sneak peek ( no watermarks )
20 page custom album
about 100 photos per hour
convenient online gallery w/ shopping cart for guests
pre-wedding timeline
complimentary encore session (severe weather on wedding day)
engagement session discount
journalistic photos
light and bright photos
dark and moody photos
sunset photos
night photos
creative photos
full print release
unlimited rights to reprints
photo selection and correction
photos delivery via proofing gallery within 35 days for half day coverage
amazing guidance and tips on how to be in front of camera
zero posing but lots of direction until you're comfortable

Our popular and reasonable wedding photography products and services are also available for Collingwood & Toronto couples.
engagement portraits
wedding albums
bridal portraits
boudoir portraits
fine art prints & wall art
rehearsal dinner coverage
non-disclosure agreement
rush service
retouching
Now, just because I can't be there on your wedding day doesn't mean that I'm not there every step of the way to make sure you have a wonderful experience with Frances Morency Photography.
Frances WILL … photograph your engagement

Frances WILL … take care of communications and business

Frances WILL … handle all the photo editing

Frances WILL … do all the custom album designs
THE ASSOCIATES
Andrew G. - Journalistic to a T. Master at capturing those moments you didn't even know happened. Andrew is inconspicuous and if you want to be left alone all day and still have amazing coverage this is your guy. Of course still great at family and formal portraits.
Khristel S. - An all around great photographer with a great personality who will capture your day like I would and you'll probably ask her to stick around and enjoy the party.
Samarra H. - Made the decision to become an associate photographer for the LOVE of shooting. Sometimes you want to dedicate time to family instead of business, editing and album product design......great compromise for pro photogs to become an associate photographer.
Melissa S. - My right hand second shooter since 2016 is now a great lead photographer. Funny, ambitious, and a great family photographer. Melissa is so good now she'll be photographing as a lead photographer in 2019.
Amanda B. - An amazing newborn photographer you have to hire when the time comes. Amanda has been joining me as my second shooter for 2 years now and is learning the ropes, but 100% qualified to shoot groom preps, ceremony and your cocktail hour.
HERE ARE THE TOP 5 REASONS TO CONSIDER AN ASSOCIATE PHOTOGRAPHER
1. A GREAT FIT FOR YOUR BUDGET
A budget is no joke! But, it also doesn't mean you should sacrifice experience and quality.
Although your budget dictates the level of photographer you can afford to hire it doesn't mean you should have less quality ...... so hire us to take care of everything.
We have photographers available for every budget and we will work out the best timeline for you so that you can take advantage of quality editing and experienced photographers without sacrificing your budget.
You will get access to all of Frances Morency Photography's wedding preparation information, and everything that I provide to my own brides. You will get treated the same as every one of my clients.
Samarra H.
2. EXPERIENCE
When you hire an Associate Photographer with our team, you are gaining access to years and years of experience and not just shooting experience, but wedding day experience. Every wedding day chaos, every complicated family drama, we have seen it all. So instead of hiring a photographer who is "just figuring it all out" you are able to have access to professionals who have been through it all........ making up time when hair and makeup runs late, taking advantage of moments of lull for candid portraits, ...... and keeping you on schedule all day long. We are continuously networking to solve any new issues and help each other out with situations with venues or other vendors.
Khristel S.
3. WE HANDLE EVERYTHING EXCEPT FOR SHOOTING THE DAY.
More and more over the years, I've come across photographers who just want to shoot and not do any of the day to day tasks of running a business. My team loves to shoot and dealing with the clients on the wedding day. Then they deliver the files to my office and we do the rest. My office takes care of all the editing, album design, print orders and essential business aspects that make for a smooth and amazing experience.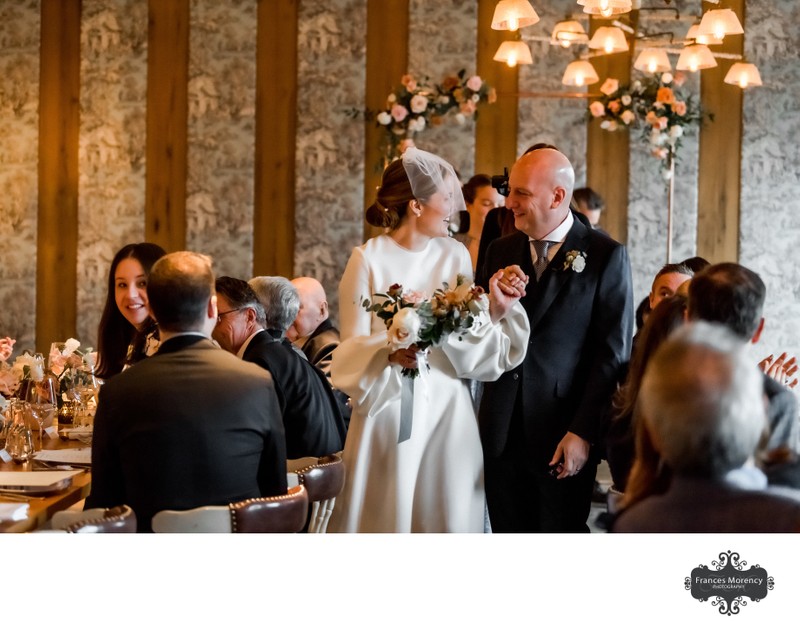 Andrew G.
4. FRANCES SHOOTS THE ENGAGEMENT SESSION
Not only is it important to have a training session before the big day, but this is when you get to work with Frances Morency for a couple hours. She will teach you how to be natural in front of the camera, give you direction for the best possible photos so that on your wedding day.......you can just relax and enjoy the process.