The Gibson Centre Wedding Photographer
Choose us as your wedding photographers to document your day at the Gibson Centre in Alliston in a journalistic style and still capture family formals and couples portraits.


How did you feel about the engagement session after it was all over?You made us feel super comfortable and relaxed. It was very enjoyable, and it did not feel like that was the first time we had met you!
This Alliston wedding venue is a beautiful location for your wedding with it's warm wood interior for your ceremony and lovely beamed reception room will not disappoint.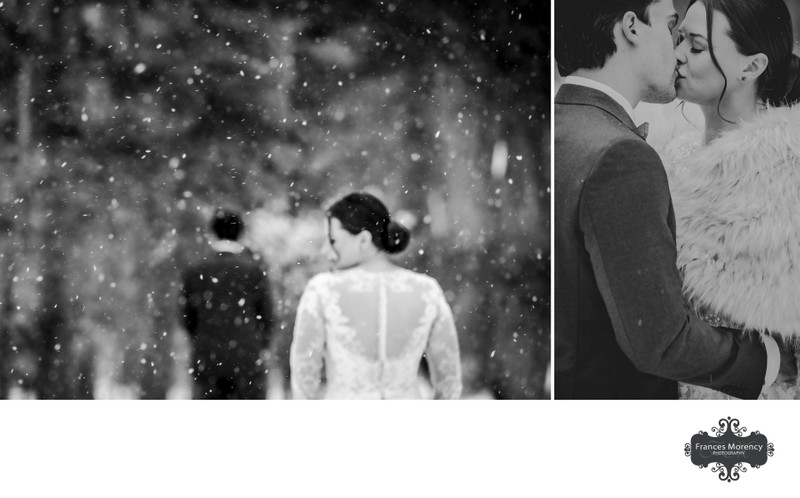 How did you meet?We first met at McMaster since we were in the same undergraduate program. It wasn't until 2 years after we initially met that a mutual friend (who is now officiating our wedding) set us up! At the time Michael was in Winnipeg and I was in Hamilton, so we were getting to know each other through FaceTime and text messaging. He came home two months later, and we've been together ever since!
What do you remember most about your first date?We went to the Toronto Christmas Market (with our mutual friend in tow), and I remember being so nervous! It felt so real, so fast, and that feeling was overwhelming, but amazing all at the same time. I love Christmas and winter, it was a magical day!
When did you know he was the one?Oh boy, it didn't take very long! Not even a month into officially dating. This may sound silly, but one major thing was he can cook, and loved to cook for me. To know me is to know, 1) I love food, but 2) I can't cook for the life of me. The way to my heart is through my tummy that's for sure.
How did you feel the moment he proposed? Were you surprised by his planning?Utterly shocked! We knew quite early on that we would get married, but he always talked about how he wanted to be at a certain point in his career before we did (or so I thought!). When it happened earlier than that timeline, it was super unexpected for me in the moment! We got engaged in Sweden while we were visiting some close friends of ours, and I couldn't believe he travelled all that way with the ring!
What do you like to do as a couple?We love to travel/adventure around. No matter where we are we always find some place to enjoy and explore, it's so fun!
If you could use 3 word to describe the theme of your day what would they be?Winter, rustic, chic
What is it about my photos that speaks to you?The candidness! You truly capture people in their natural element.
What is the one thing that attracted you most about your partner?Abbey describing Michael - His smile, and willingness to learn about everything and anything in life Michael describing Abbey - Her beautiful blue eyes
Tell me 3 things about your partner that describe them best?Abbey describing Michael - 1. He is a bookworm and would read all the books in the world if he could 2. If he wasn't an astrophysicist, he'd be a LEGO engineer 3. He loves to cook, and make things from scratch Michael describing Abbey - 1. She loves to garden and grow her own food 2. She loves to play games, and is slightly competitive 3. Is always seeking for an adventure
Tips or advice that you would give to future couples when planning a wedding?Enjoy the process, it's going by so fast!


WINTER WEDDING AT THE GIBSON CENTRE

Abbey&Micheal - Gibson CentreUpdated Mar 13, 2022

How and Where did you start your day....... did you wake up together?A best friend sleepover the night before with my bridesmaids had always been a dream of mine - so that's what we did! Michael spent his night at the hotel with his grooms people and we spent the night at my parents!
Why did you choose that ceremony space? Name 3 words to describe your inspiration for your theme, style or decor? Went to a Christmas craft show there a few years prior and knew it was the venue I wanted to get married at! It was rustic and industrial.

What do you remember walking down the aisle?So much excitement!!

What were the florals like in your wedding? Did you use flowers throughout the entire day? Flowers were the theme of the day! I wanted the flowers to be the main decor pieces, and they were exactly that. They were stunning.
Did you personalize your day in any way such as food trucks, entertainment etc. Our best friend who set us up was our officiant! It was so special.
How and why did you choose your wedding photographer to capture your memories? Frances' candid photographs are amazing; this is exactly why we chose her to capture our day!
Comments / Tips about your venue for future couples?With all the ongoing changes, everyone at the Gibsons centre were so accommodating. Our day was so special despite not being able to have our reception.

Venue: Gibson Centre Events
Photographer: Frances Morency Photography
Videographer: Alex from a A Big Company Production
DJ: DJ Mastermix
Makeup/hair: Rinaldis Salon
Florist: Lavender Floral
What did you talk about during your first dance together?Making sure our steps were to the beat of the music!
What did you do together the next day that was memorable?We went and spent a night at Glen Oro farms in one of their stargazer domes! We had dinner made for us by the campfire, and had a cozy night by the fire.
If you could tell engaged couples 3 things not to stress about on the wedding day what would it be?

1. Covid 2. Timeline 3. Ceremony