ELORA MILL HOTEL & SPA
Ask us about our discount for Sunday weddings at
Elora Mill Hotel & Spa
A charming village, panoramic views atop a thundering gorge, exists a wedding venue so charming. Elora Mill Hotel & Spa is a one-of-a-kind destination wedding venue that every wedding photographer loves. Enjoy an all in one wedding venue with luxury suites, locally-inspired cuisine, and relax with your friends in the lounge or reconnect with yourself in the cliffside spa.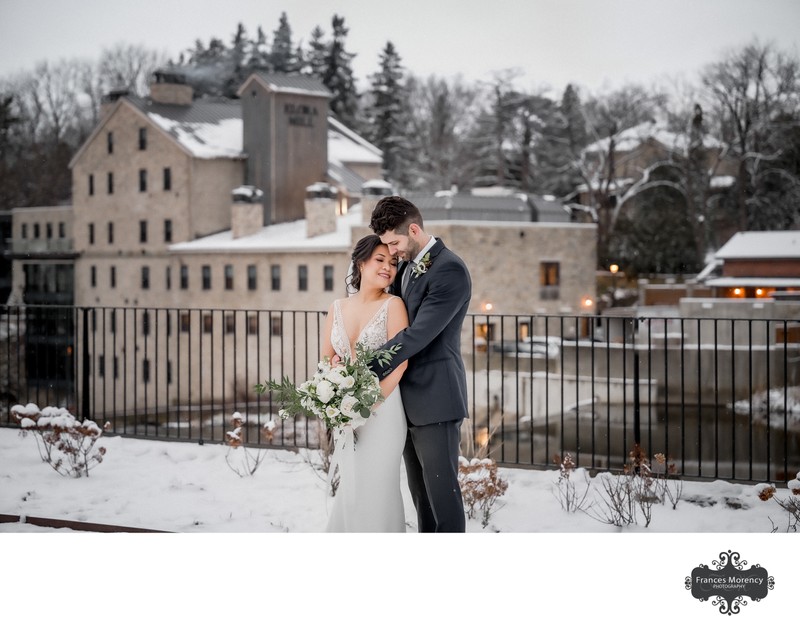 As a wedding photographer, there are certain wedding and event venues that we love to photograph over and over again. The Elora Mill & Spa is one of those venues for me.
The beautiful modern bridal suite with epic light and the most gorgeous view of the gorge as your backdrop. The bedroom has updated decor with white furniture and blue bedding. The window light is just perfect as it bounces off the white wardrobe and surrounds the room.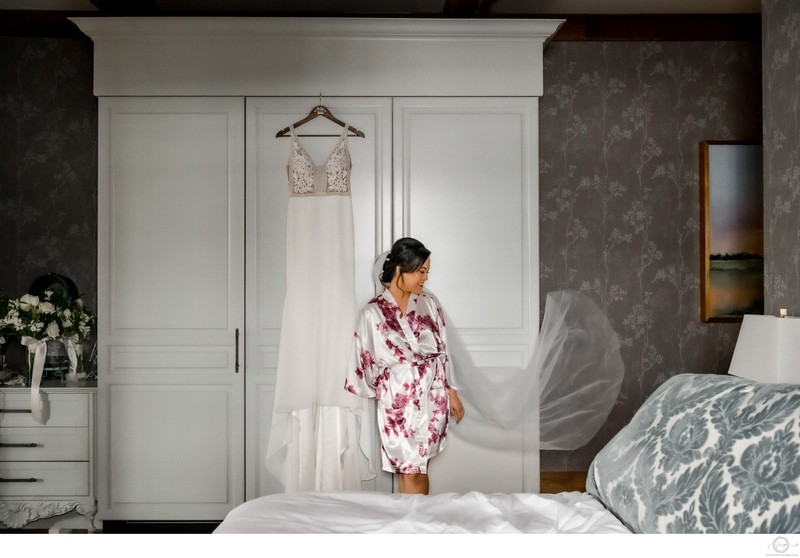 The attached living room is just as gorgeous with blue velvet drapery and floor to ceiling windows allowing all the light you could possibly want for your getting ready photos. The space is large enough to host a moderate wedding party and still not feel cluttered.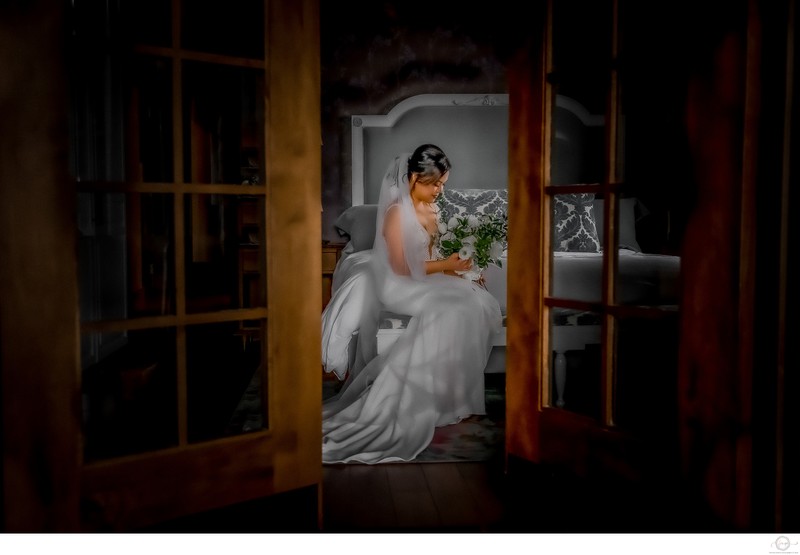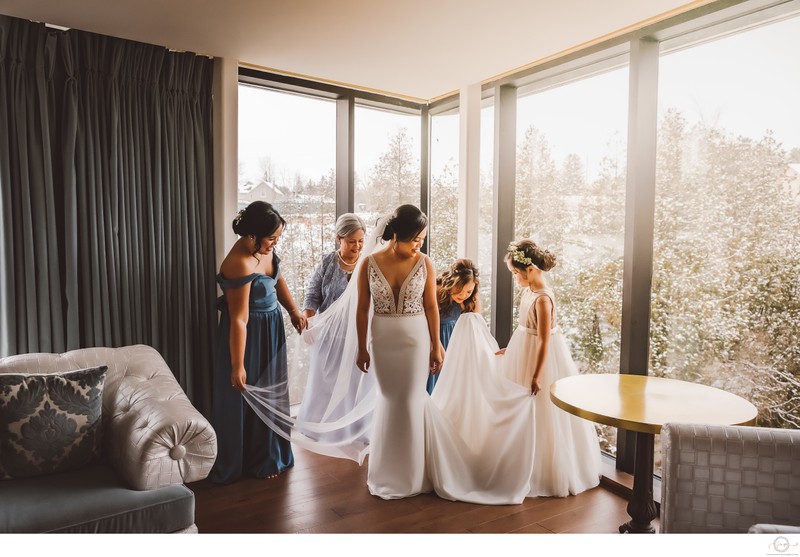 CEREMONY
Are you getting married at The Elora Mill Hotel & Spa? This wedding venue is a true destination experience. Allow their Special Events Team to start planning your dream getaway.
The foundry is nearby and a shuttle bus escorts all of you to the ceremony just in time to open the beautiful french doors and walk towards a fireplace to say your i dos with your patiently awaiting partner.
The grounds surrounding the foundry is ideal for all your wedding photos and no need to go anywhere else. We chose to photograph the family and wedding party at the foundry's historic ruins.
VENUE SPACES
THE GRAND
top floor of The Granary

accommodates up to 200 guests

views of the Grand River and the Elora Mill
custom harvest tables
Seating Capacity: 200
THE IRVINE
bright and fresh cocktail reception area
ornate and beautifully detailed room exudes luxury and European charm
opulent mouldings and majestic chandeliers
rich colour palate and wood-burning fireplace
Seating Capacity: 100
After finishing with the wedding party at the foundry ruins, the videography team and myself walked back to The Elora Mill and Spa and took all the portraits you could possibly want without wasting any time so that you could head back and enjoy your cocktail hour.
We started at the foundry, then walked across the bridge, photographed in the streets of Elora, went on the balcony of the spa for a gorge photo and then photographed the couple walking back to the reception space.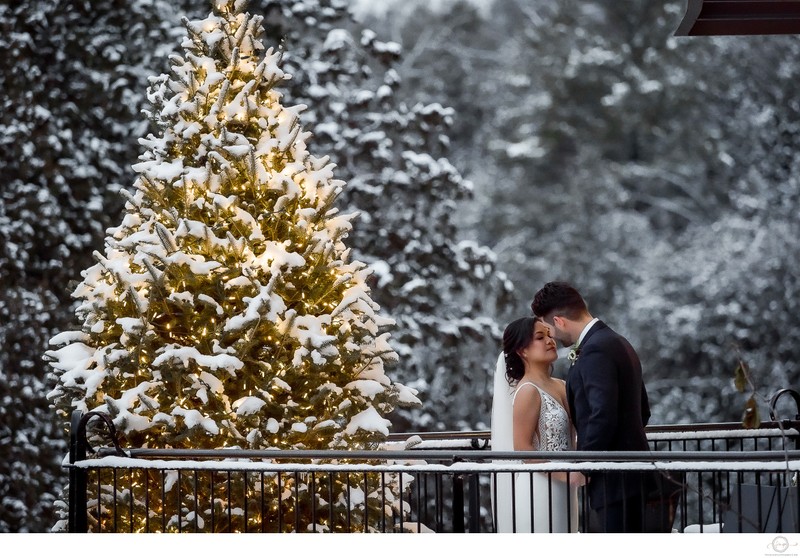 THE FOUNDRY
industrial space strikes the perfect balance between rustic and romantic
Dramatic wooden chandeliers and aisleS flanked by reclaimed timber beams
elegant finishes and a polished marble fireplace.
Natural light streams in through the grand windows
limestone chapel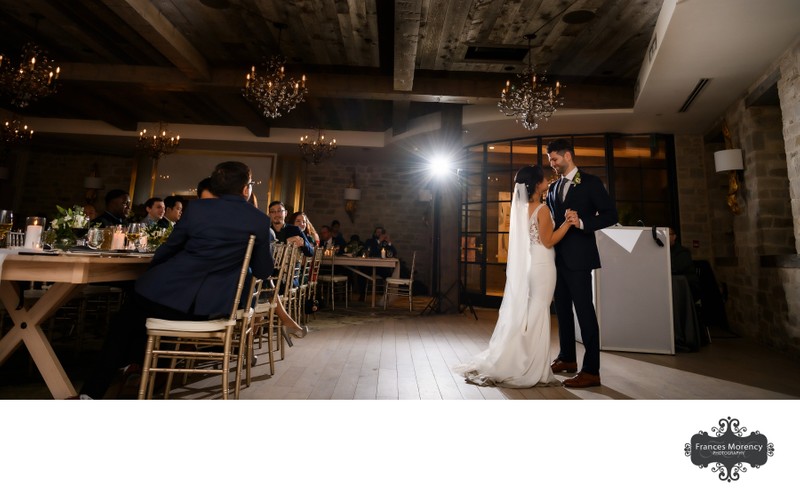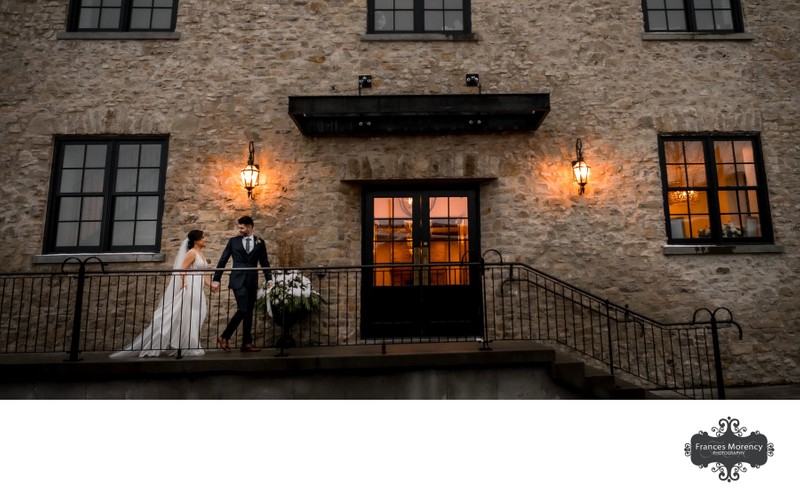 LOCATION
Venue: The Elora Mill & Spa Destination Wedding Venue
Address: 77 W Mill St, Elora, ON N0B 1S0