Just the right combination of modern, journalistic and fine art.
PLANNING THE DAY
Should you have a "first look session? "
It's a new age, so it's no longer considered bad luck for the groom to see the bride before the wedding. What's more, there are actually some pretty big advantages to a first-look session prior to the wedding. Not only are the bride, groom, bridal party and family in top form, the bride and bridesmaids' hair and makeup are fresh, and the groom and groomsmen are still OK with being in their tuxes.
If you do decide to go with a pre-ceremony formal portrait approach, be sure to set aside 15 minutes of private time for just the two of you. These private moments, before you start taking more formal, posed portraits, are often the most special for the bride and groom. You are able to say a prayer together, or exchange meaningful gifts, relax and think about the moments to come. This healthy pre-ceremony atmosphere created a smooth, steady flow through the day's events. Getting this step out of the way early in the day frees up the rest of the day to enjoy yourselves and your guests.
get's the gitters out before the ceremony
allows you to enjoy cocktail hour
gets most of the photos done while you look your best
don't forget to put aside 15 minutes during golden hour for portraits
8 Tips for a Fabulous Wedding Day
Select the location where you are getting ready with care. A bed & breakfast with lots of natural light will look much more beautiful in photos than a church kitchen with industrial appliances and fluorescent lights. Also, try to keep clutter to a minimum in the room.
Find out what the rules are for photographs at the ceremony location. All venues are different, some restricting photographers from the front of the church or the aisle. Each minister/officiant has his/her own rules for the ceremony. Are permits required? and is flash allowable? or strictly natural light?
Make sure to eat before the wedding. It may be hectic and you may be nervous, but it will be a while before you have the opportunity to nourish yourself during the reception.
Prepare an emergency bridal kit with clear nail polish, mints, a sewing kit, stain treater, Visine, safety pins, bobby pins, pain reliever, mini deodorant, and blister care or bandaids.
Allowing 50% more time for hair and makeup than you originally anticipated alleviates the number one reason wedding schedules end up running late.
If you are planning on having a receiving line after the ceremony, plan 30 minutes for up to 150 guests
If you do not plan to do a receiving line, make sure you hide out of site after coming down the aisle or you will suddenly have one. This is another common place where schedules end up running late. I can whisk you away for photos right away if you like just let me know.
Above all, remember that the vendors work for YOU on the day of the wedding, including us. If you don't want to do something, simply say no. This is your wedding day, and you don't want to have any regrets.
FROM START TO FINISH
The weeks prior to and directly following your wedding are busy times. Here's a timeline to help you know exactly what to expect from Frances Morency Photography the weeks prior to and following your wedding.
6-8 weeks before your wedding: I will send you a link to the Wedding Questionnaire form to fill out with all the details I need from you for capturing the best images possible.
4 weeks before your wedding: I look through your Wedding Questionnaire and create your Timeline to let you know if I see any issues or if you missed anything like allowing travel time.
2 weeks before your wedding: Your final payment is due if you have not already sent it in.
The day of your wedding: I arrive at the scheduled time and quickly get situated. Then I follow your timeline and go through the day as smoothly as possible, giving you the best images we can create.
Within a week after your wedding: A sneak peek of some of the images will be posted to social media for your friends and family to view and download.
A few weeks after your wedding: I deliver your online wedding gallery images & information about ordering your prints & albums. This generally takes 4 weeks as each image is carefully edited.
3 months after your wedding: I deliver your USB (if included in your collection) of digital images as well as sending you a preview of your wedding album should you choose to purchase one. You'll receive an album guide to walk you through the album process of editing and adding images.
4-6 weeks after album approval: Flush-mount albums generally take 4-6 weeks to arrive. You'll receive instructions about how to care for your album for years to come, and you'll be excited to show all your friends how beautiful it is.
A WEDDING DAY PHOTO TIMELINE
Weddings are a gorgeous combination of lightly directed portraits and candid, journalistic documentation of the day. Putting fun in formals is what I'm all about. There's little more important to a perfectly executed event than an organized timeline. If you are looking to effectively plan out your wedding day with your wedding coordinator or fiancé, here's a look at how long things typically take from my point of view. I am here to help assist you in planning out your day so that you don't miss a beat, so please contact me and we'll be glad to help you create a schedule to make things go smoothly.
I generally arrive 90 minutes before you leave for the ceremony or pre-ceremony group shots to document the getting ready portion of the day and connect with the Officiant or Venue Coordinator.
30 minutes - To photograph all your details such as the rings, paper details, the dress, the shoes, any heirloom and accessories and last minute touch ups with hair and makeup.
During this time we also photograph, journalistically, everyone there in the room with you.
15 minutes - Bridesmaids in robes/ champagne toast / bridesmaids getting dressed
15 minutes - Bride getting ready photos typically include the bride getting into the dress with bridesmaids/MOH or parent.
2 minutes - Mother daughter moments
2 minutes - Dad first look
5 minutes - Bridal Portrait
add additional time for travel if hair and makeup are done in a salon.
If VIDEOGRAPHY is with us then add 30 minutes to your getting ready time.
CEREMONY: 20 -60 MINUTES
Ceremonies will vary in length depending on the type of service you are having. Add a few extra minutes when planning your timeline to avoid running late if this goes longer than planned.
With no receiving line, you can expect it to take 10 minutes for people to exit the area before starting family formal group portraits.
FAMILY FORMAL PORTRAITS: 20 MINUTES
Weddings are a gorgeous combination of posing and candid shots. Family formals are no different.
However, in order for family formals to be photographed efficiently I highly recommend these portraits happen immediately after the ceremony near the ceremony location.
The best compliment is when the parents or grandparents come up to me after and tell me how efficient I am. They love my take charge and get er done attitude and my ability to photograph family formals efficiently.
Now, that being said, it is important to know who you want portraits with and someone who knows everyone by name to help you wrangle family. Don't give me the list, instead choose someone that is familiar with all your family to help call them forward when it's there time to be photographed with the both of you.
WEDDING PARTY PHOTOS: 15 -20 MINUTES
I prefer to shoot these group shots immediately after the family formals or right before the ceremony if you're doing a first look. I would plan about 20 minutes for 2-3 full wedding party photos, photos of the men together and women together, and a photo of you and each of your wedding party members alone if you wish.
Add travel time if necessary.
If VIDEOGRAPHY is with us add 10 minutes to wedding party photos.


TRAVEL TIME: ADD MORE THAN YOU THINK
When multiple people are traveling together, it always takes more time than you think to get everyone together and ready to go. If taking separate vehicles, add even more time for everyone to arrive and find parking. Better to over-plan how long it will take than not to plan enough time.
COUPLE PORTRAITS: 60 - 90 MINUTES
This is when you get a chance to breath on your wedding day. The ceremony and formal portraits are done now we get to hang out and take your bridal portraits in a more relaxed way. I can do these in as little as 60 minutes, but many couples schedule in additional time to get a larger variety of photos with multiple locations, and have a little more time alone together on the day of the wedding. Because I want you to look as relaxed and natural as possible in these photos, I ask that no one else accompany us during this time.
Either schedule your portraits during your cocktail hour or split up your portraits with half prior to ceremony with a first look and half after the ceremony so you can enjoy tail end of your cocktail hour with your guests.
You'll need to be aware of the different lighting situations and locations during the time of day you choose to photograph your portraits. Late day portraits always have much better light than mid-day portraits but we are experience in all lighting situations so whatever you choose we'll make it beautiful.
Don't forget to allow for 15min. during golden hour for portraits in fabulous light.
RECEIVING LINE: 30 - 60 MINUTES
A receiving line for up to 150 will take about 30 minutes. Add 15 minutes for each additional 100 people in attendance at the wedding. Yes, it really will take this long. If you prefer not to do a receiving line after the ceremony, make sure to hide somewhere out of sight or you will have an impromptu receiving line.
GRAND ENTRANCES 5 -10 MINUTES
Choose to be introduced into your reception space either with just the two of you, with your parents, with your wedding party or all of the above.
FIRST DANCE 5 - 10 MINUTES
Your first dance can be planned right away after you enter the room as an introduction to your reception or after dinner and speeches to start off your dance party.
DINNER & SPEECHES 120 MINUTES
Dinner service usually includes speeches in between each courses. Option to visit tables in between courses is also popular and offers the opportunity to get a portrait with each table.
Remember, this is only an option if you've advised your venue to feed your vendors at the same time you're eating so that we are ready to jump into action when you are.
DANCE COVERAGE: 30 -60 MINUTES
After years of experience photographing weddings, we found couples didn't want coverage after the first hour unless planning additional entertainment, reception exit, fireworks, or sparkler exit.
A few weeks before your wedding, I will confirm your timelines, photo locations, group photos, vendors, permits and special requests. This information will ensure we are all on the same page for an unforgettable and stress-free event!
EIGHT WEEKS BEFORE YOUR WEDDING
I will provide you with a Wedding Questionnaire form to fill out with all your wedding details including locations, special wedding day events, timelines, group photos, vendors and much more. This information will ensure we are all on the same page for an unforgettable and stress-free event!

Little things mean so much..........
I PHOTOGRAPH THE DETAILS, THE DECOR, THE SURROUNDINGS, THE AMBIANCE!
So many things are special about your wedding day. While they may seem like small details, the unassuming broach on your wedding dress may have been from your grandmother. Those shoes with the delicate pearl buttons may have been your mother's. These are the smaller, sometimes unnoticed details that tell the story of your special day, that I document for you. Whether it's your bouquet or a passion for flying or the something blue, it's all a part of your distinct personality as a couple, an expression of who you are as you embark on the next chapter.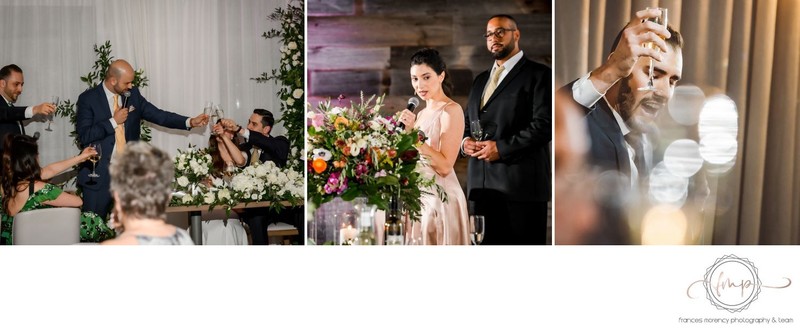 Why an ENGAGEMENT SHOOT IS IMPORTANT?
If there's one thing I could go back and do over when I got married, it'd be to do an engagement session together before our wedding. I strongly regret not doing this.
While we have beautiful photos that captured our wedding day, we don't have professional quality photos that really show who we were as a couple at that stage of our lives. I wish we would have taken professional engagement photos in the places where we spent much of our time together while dating. If we had them, our children and grandchildren could have a better glimpse into our lives at that time and we could more easily look back and re-live the memories.
Not only do engagement photos capture joyful memories of who you are as a couple now, they allow you to create fun images for wall portraits, a wedding guest book and Thank You cards.
If we shoot early enough, I can also provide the images for your Save the Date cards and invitations. Images also add more to the story in your wedding album, capturing your story from your engagement to your wedding day. We'll also travel if needed to get the photos you want.
Best of all, this is a fun time for you to get comfortable in front of the camera before your wedding day. Get to know how to take a great image and how well we work together so there are no surprises on your wedding day. With my relaxed and natural approach, you'll soon realize how easy it is to be photographed by me.
Great engagement shoot ideas: Places where you spend lots of time together: You'll look back at these photos in future years and smile thinking of all the lovely memories you created in these places.
At the place he proposed: After all, what better way to capture an engagement than the place it all started!
At your favourite restaurant: Meaningful memories happen with food, ambiance and your special song playing in the background.
Doing your favourite activity: You both enjoy playing checkers. What better way to capture your personality than in the heat of game play, the agony of defeat, or the comedy of contemplating your next move?
Where you first met each other: Whether your first meeting was a discussion at the library or fumbling for the door at the local coffee shop, going back to your beginnings is a marvellous memory.
Images with your pet: What better way to capture your new family than by including a beloved shared pet in your session?
Your favourite skyline: Your city is beautiful at any time of the year, and the skyline shares where you live now, a beautiful location that might change with time.
A downtown urban session: Fun and funky, pictures in alleyways or in otherwise undiscovered locations of your area make for a more intimate view of the city.
An amusement park: Nothing says fun like the Tilt-A-Whirl to go with your whirlwind romance.
A romantic beach: In the morning, evening or any time of day, the sea meets an endless sky for a feeling of forever.
At your favourite, cute coffee shop: Quirky and cozy, local mom and pop shops are a great way to take a quick break to refuel and to catch some local, architectural shots with you in the process.