The Reception
We photograph receptions with the guests in mind with lots of candid photos, first dance images and reactions during your speeches because we are journalistic wedding photographers.

Cocktail Hour
During cocktail hour, the couple is normally getting their portraits done but if you've scheduled an engagement session with us we can usually get through your portraits with plenty of time for you to enjoy the tail end of cocktail hour. 40 minutes required
Photographing an engagement session essentially trains you on how to be in front of the camera so on your wedding day it's seamless and easy. If you have never been in front of a camera and you're doing so on your wedding day for the first time ..... then it will take us a little longer to get you relaxed and comfortable in order for us to capture the images you'll love. One hour required
This is also the time when we need to set up our off-camera flashes in your reception room. 15 minutes required for set up and testing
Decor
Yes, we photograph the room or tent or outdoor space showcasing all those details you've spent so much time researching and planning to make this day your dream wedding. We can easily photograph the decor and the room during cocktail hour. 15 minutes required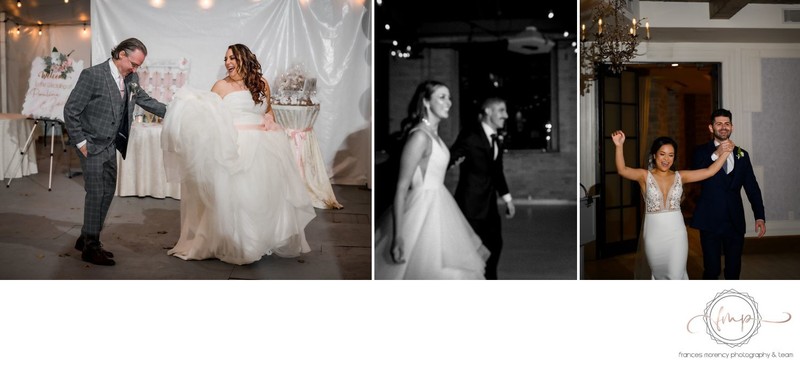 Grand Entrances and Introductions
Grand Entrance timing will depend on whether it's just the two of you or then entire wedding party or the entire wedding party and parents. Some grand entrances include dancing to individual songs and lots of shenanigans or simple introductions of who is included in your wedding party.
Grand entrances and introductions can take anywhere between 5 minutes to 20 minutes.
Delays occur when the nothing is planned and you're trying to organize an 16 person wedding party to all do something different.
Delays occur when you haven't discussed your grand entrance with the DJ or MC.
First Dance
Planning your first dance after your entrance is the most efficient way to document it while still keeping your photography coverage at a minimum. Couples who do not want the reception photographed plan a first dance after the grand entrance and then finish photography coverage.
Couples planning on having reception photography including everything from cocktail hour to party can plan their first dance whenever they like throughout the reception.
Some couples love the first dance at the beginning for the guest entertainment and this is also when you are still somewhat sober and dressed beautifully.
Couples doing their first dance after dinner prefer this option because they can have a few cocktails and don't mind freshening up after dinner to be photo-ready.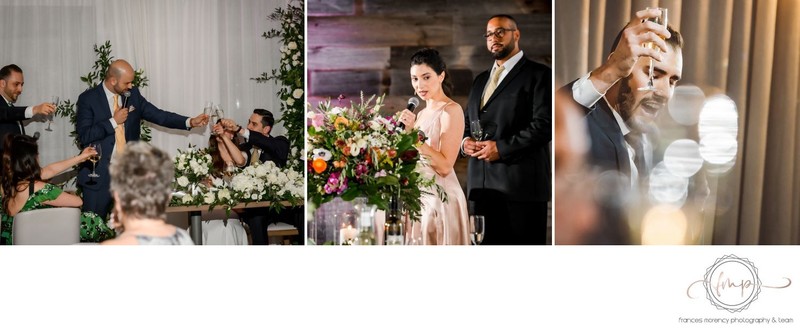 Speeches
We adore speeches and not only because we love hearing the stories and sometimes roasting, but because this is the best time to photograph guest captures. We photograph the speaker, the couples reactions and the guests.
Photographers need to be seated in the same room as the guests and should be served at the same time as the head table. This is not because we are hungry or want to be fed first, it's because we need to jump into action when the couple is done eating.
Some couples schedule speeches in between courses or visit tables after they finish eating or go outside for golden hour photos. So, if we are eating at the same time as you are then we are available to photograph whatever you wish when you're not eating.
Ask for a vendor table or seat the photo and/or video team at Table #4
VENDOR MEALS AND TIMING NEED TO BE DISCUSSED WITH VENUES AHEAD OF TIME and assign your wedding coordinator to facilitate this request on the day of because it is ignored 90% of the time by wedding venues.
5. Plan on 2 hours for dinner and speeches coverage.
Guest Captures
Guest captures during your reception happen during speeches or when they are entering the reception room or even when they are hanging out at the bar with other guests.
We photograph guests all day long.
Parent Dances
When you have parent dances is usually after dinner either to start off your dance party or after your first dance.
I've seen couples finish their first dance and then each go and welcome their parent for the parent dance.
I've also seen the DJ or MC accounce parent dances in between courses if time is limited.
I've also seen parent dances incorporated with the entire wedding party couples dancing.
Golden Hour and Sunset Photos
You can't always plan your wedding day around the best light of the day which is golden hour.
We are professionals in lighting situations from available light, harsh light, flash, off-camera flash, low light, night light and sunset light optimizing creativity with lens flare, sun bursts and double exposures.
Our favourite time of day is golden hour which is two hours before sunset which, for summer weddings, usually happens right in the middle of dinner. So, we'll plan on taking you outside for ten minutes during dinner service for gorgeous golden hour and/or sunset photos.
Cake Cutting
Cake cutting is traditional and not every wedding is spending money on cake anymore.
However, if you're having a cake and serving it as dessert you'll want to consider doing a cake cutting photo after your grand entrance and first dance that way the venue or caterer can start with the platting to incorporate into your dinner service.
If you're cake is part of your late night dessert table organize the best time with the venue and we'll grab a cake cutting photo whenever you like. Cake cutting photos only take 1 minute or less.
Party Dancing
Most couples hire us to document the first hour of reception which will give you a good sampling of what your reception party looked like.
Night Photo
We'll take you outside or inside depending on your venue and create a beautiful night time portrait. Let us decide where the best light and details are and we'll work our magic with off-camera flash or video light.