First Look or NOT to First Look
First, I always ask my grooms this question.
Typically, this is a groom expectation as they anticipate seeing you come down the aisle and a first look session changes that for them specifically.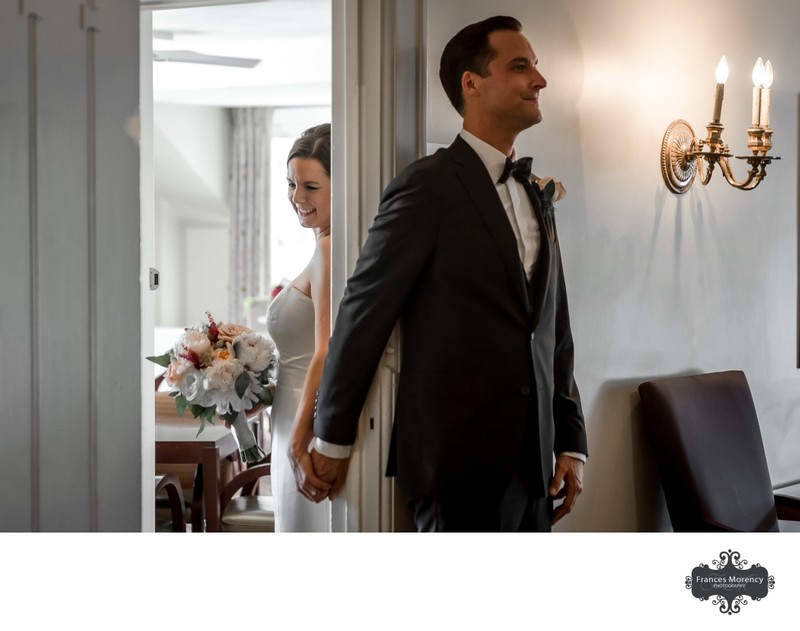 First Look Session
What is a first look session?
This is the time of day where we set you up to see each other for the first time before you walk down the aisle.
A first look session is sometimes a request:
- to either get the gitters out, or to be able to have
- a private moment together before saying "I do" in front of everyone
A first look session can also be a timeline factor. Let's say you're getting ready in the same location and need to drive to the ceremony together. Then a first look session is a great opportunity to stage the two of you seeing each other before heading out.
A first look session may also be required because you're having a late fall or winter wedding and all of your photography is being done before the ceremony during the light of day.
A first look session is another opportunity for fabulous portraits if your getting ready location is stellar and needs to be photographed too.
WARNING
If you're not prepared to get your dress somewhat dirty and plan on holding the train for all your pre-ceremony photography ....... you will be disappointed in your portraits.
It is essential for natural looking photography that you walk, maybe even run, spin and play with your dress and or veil. You will also be required to use your hands for emotional looking portraits, therefore letting the dress down will be essential.
Your makeup and hair may possibly change if it's raining or super windy.
Plan on 30 minutes pre-ceremony for hair and makeup touch ups.
So, essentially it's up to you and the timeline you designed for your wedding day.