Wedding Albums
I include a wedding album in my full day wedding collections.
Wedding photography
should be displayed and enjoyed.
THE ALBUM
I will commence the book/album design process once the proofing gallery is posted and live.
Collections, unless stated otherwise include a 6x6 custom designed, lay-flat book with image wrap cover or plain hard cover in black.
A favourites list must be created for the book/album before the proofing gallery expires if you wish complete control over how the album is designed.
I will consider/but not obligated to using images from your favourites gallery if you have chosen favourites before we create the book/album design.
I have complete control over the style, image choice and design choice of the book/album included in your collection to reflect the style of my company. However, you have complete control over which images can be in the book/album and the opportunity to work with me to design the book/album.
This entire book/ album design process is easily done online via your personal portal.
Your personal portal was sent to you when you signed your booking proposal.....please review your emails.
You may custom design, upgrade to lay-flat archival heirloom album, choose the images and upsize, but this must be completed before your gallery expires.
Email me with any upgrades and i'll modify the book/album once the invoice is paid.
All book/album modifications must be approved and paid for before the proofing gallery expires.
UPSIZE
6x6 to 8x8 - $ 100
6x6 to 10x10 - $ 200
Want an HEIRLOOM ARCHIVAL ALBUM ASK US FOR THE PRICE LIST
You will have the opportunity to revise the book/album 3 times easily using the online proofing gallery.
Each revision after the third revision will be an additional cost of $20 / each revision.
Additional spreads not deleted from Album Design is billed at $50 per spread (2 pages)
I can easily design the book/album with opening wow image and 2 full page spreads without your input. You are not required to approve the final design before it is sent to the bookbinders.
Within 4 weeks of starting the design, said book/album will be deleted if no modifications have been implemented.
CHOOSE FAVOURITE IMAGES
It's time to build your favourites list in your proofing gallery.
go to your image gallery and hover your mouse over an image & choose favourite images by clicking on the heart
build your list and hit send to photographer
once we receive your favourites list we will begin an album design for you
ideally, choose 5-7 images from each section of your day for a well rounded album such as 7 images from getting ready, then 7 images from the ceremony, then 7 images from your portraits, then 7 images from your reception.
family formals and wedding parties can also be added if you want.
Approximately 40 images in total.
I will then begin the album design considering your favourites list and send you the first revision.
The revisions live in your gallery for easy access anytime before your online gallery expires.
CLICK ON THE HEART TO CHOOSE FAVOURITES then go to the top right hand corner to view favourites or the print order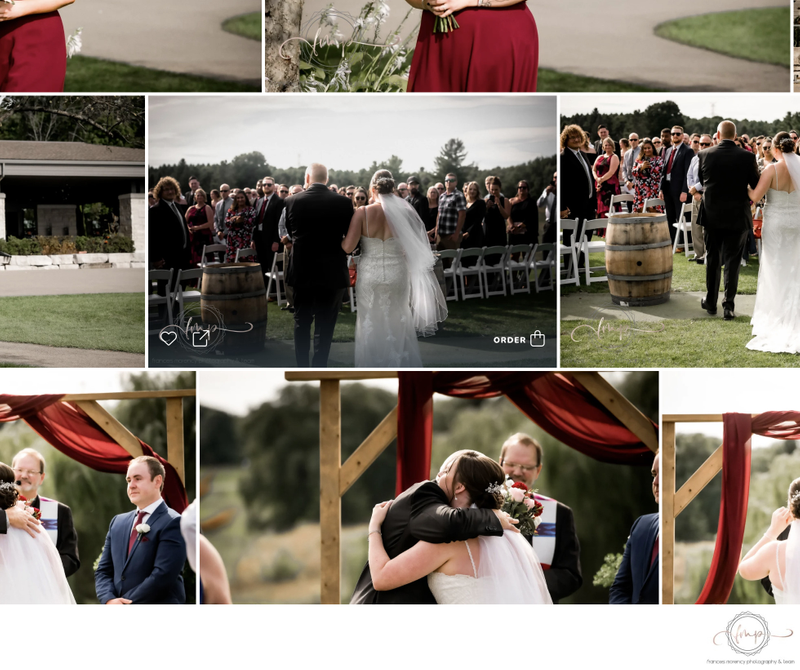 HOW TO EDIT THE ALBUM
The album process is quick and easy and all done online.
Once I complete the first draft of the book/album design I will upload it to your portal
In your portal, hover the mouse over Album Proofs to view your book/album design
Open the book/album design and review
Click on an image to leave a comment and instructions.....such as the one in the photo above:
ie. delete image, move image to page 4, make image a feature image, replace image with file # XXXXXX etc.
Complete comments on all album spreads then hit send and I will start revision #2.
You will receive 3 revisions to make the album perfect.
Next we will choose the album cover image and ask if you wish to have the album upsized or add a parent(s) album
Albums and products in your collection expire at your 1 year anniversary
A fee of $300 will be implemented to reload your proofing gallery for 1 month in order to build your album once your proofing gallery expires.
Book/album design/and or delivery expires on 1 year anniversary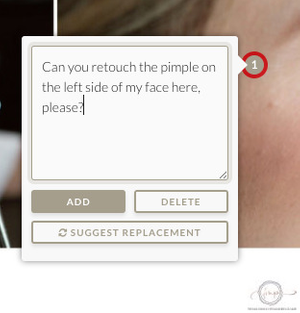 SAMPLE OF CHANGES REQUESTED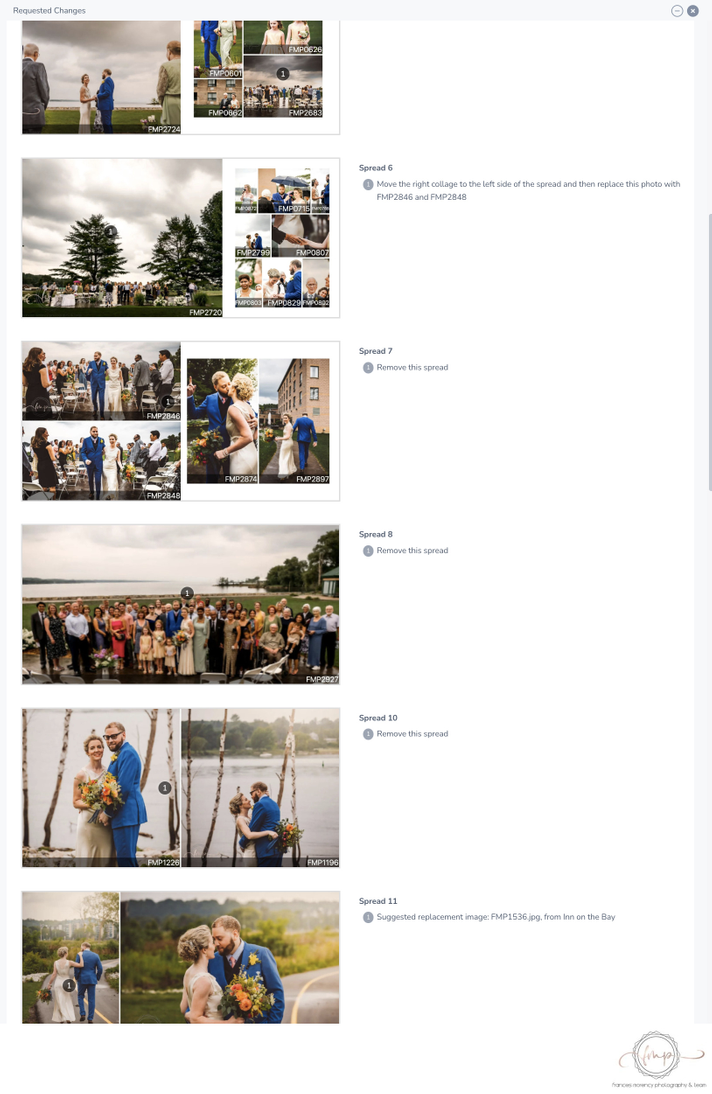 Heirloom or Non-Heirloom
Both albums are beautiful.
Heirloom uses archival photo paper…..meant to look great for a very long time.
Non Heirloom uses photo paper, but not officially archival.
Choose and heirloom album for longevity.
Parent Book/Albums
Parent book/albums purchased are duplicate designs sized at 6x6
Additional spreads and upsize costs added to the couple's album will also be added to duplicate parent albums.
Individually, custom ordered parent book/albums are also available to order via the proofing gallery & can be of any size and custom designed according to parents own favourites list.
Additional custom books/albums not included will require 50% down payment before the design process begins.
Design of books/albums will not begin until the down payment is received and book/album will not be ordered or sent to bookbinders until all outstanding invoices are paid in full.
Album Delivery
The book/album will ship without notice to the address on file immediately upon completion.
Most book/album designs happen in November, December, January when my shooting and editing schedule is lighter.